The Be More Dog new release has been ranked #1 in two categories on Amazon.com. During its first two weeks of publication, this new book from Tripawds founders Rene and Jim has consistently earned top ranking in both "Veterinary Surgery" and "Travel with Pets".

Be More Dog New Release: #1 in Veterinary Surgery
Be More Dog follows the journey of Jerry G. Dawg, from his life as a puppy rescued by the authors, through his bone cancer diagnosis at age eight, and onto his final years traveling the country together with his pack. Specific chapters discuss his amputation surgery at U.C. Davis Veterinary Medical Teaching Hospital – and his recovery and rehabilitation that followed.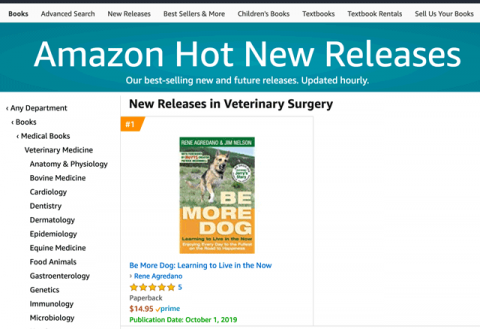 The related stories the authors share present valuable insight to veterinary surgery and recovery from the pet parent perspective. By the time they published the Be More Dog new release, the authors had 12± years of experience running the Tripawds pet amputation support community.
From Be More Dog:
Science knows no cure for the disease that usually kills dogs within twelve months, but if the tumor – and the entire limb – is removed, patients can enjoy pain-free quality time until it does. Surgery would cost Jerry a leg, but not his life. At least not right away.
They may have had no clue about canine cancer or amputation when Jerry was diagnosed, but by the time they finished this enlightening book they had interviewed numerous board certified veterinary surgeons, oncologists, and rehab therapists. The insight they have gained from these experts over the years shines through in the stories they share.
The young vet felt confident Jerry would rebound in record time. He survived the three-hour surgery without any complications and all the stamina of a much younger dog. "Give him about two weeks; you'll see that he will do just fine." He studied his clients' red, swollen eyes and gently smiled, then left to retrieve his groggy but eager patient.
Be More Dog New Release: #1 in Travel with Pets
When they received the news about Jerry's cancer and pending amputation surgery, Jim and Rene were at a point in there life where they felt the need to move on. Jerry was the Chief Fun Officer of their growing graphics business. His cancer diagnosis became the bittersweet tipping point in their career.
Jerry was dying, and things had to change. Their steadfast companion deserved so much more than a long goodbye in the corner office. So, they made him a promise. They vowed to give him the one thing he wanted most: unlimited time with his favorite people, in the kinds of places he loved.
After eight years with their heart and soul dog, they owed it to Jerry to make the most of their remaining time together. Rene suggested to Jim that they sell everything, get an RV, and plan for a one-year sabbatical to travel the country together as a pack.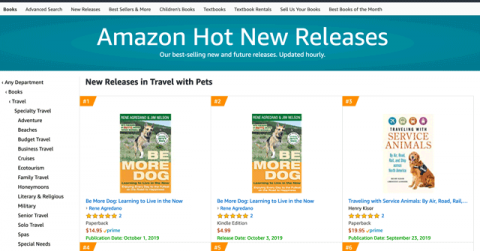 Given just 6± months to live, Jerry ended up loving life on three legs for two years. During that time, he led them from northern California, through the Great Lakes region to the coast of Maine, down to the Florida Gulf, across Texas, and up into the Rocky Mountains. Be More Dog shares the many adventures they shared throughout their travels, and the important lessons they learned from their three-legged co-pilot leading the way.
The situation demanded action. Instead of opting for chemotherapy treatments and vet visits, they made a plan for a one-year sabbatical. To pay for it, they sold their business, their home, and nearly all their possessions. Then they purchased a new RV to travel the country together as a pack, for however much time they had left together.
Fellow nomads, full-time RVers and anyone with an interest in road travel will enjoy reading Be More Dog. Rene and Jim share many fun stories about places they went in Jerry's big "dog house on wheels", the people they met, and the challenges they faced as new RVers.
Their goal with these first few workamping jobs was to try their hand at businesses they considered starting after the road trip ended. Rene loved gardening and dreamed of owning a farm. Jim grew up in a Northern California agricultural town and liked working outside. Their next job at White Rabbit Acres would give them an up-close look at the dirty work of organic farming.
They introduce readers to the concepts of "boondocking" and workamping, where they enjoyed free full-service camping spots in exchange for hours worked – on an organic farm in Florida, at a New Mexico hot springs resort, and on a working ranch where Jerry enjoyed his last summer in the Rocky Mountains.
With Amazon ranking the Be More Dog new release as #1 in both Veterinary Surgery and Travel with Pets, the authors hope to reach audiences that may not otherwise be interested in reading their story. This book makes a great gift for veterinarians and vet techs, or anyone interested in RVing. Visit the Be More Dog Shop to get your paperback edition, e-books, or special gift package edition.