We had the honor of speaking with Wag Out Loud pawdcast host Krista for an in depth discussion about amputation for dogs, the Tripawds community, and our book Be More Dog: Learning to Live in the Now.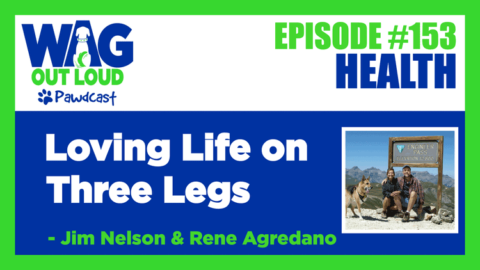 Krista had the following to say in her announcement for Wag Out Loud Pawdcast Episode #53 – Loving Life on Three Legs. (We find this quite appropriate, since Loving Life on Three Legs is the title our our second Tripawds pet amputation handbook.)
Wag Out Loud Interview with Be More Dog Authors
There are several reasons why dogs might face amputation. But our pups are so adaptable and it's usually us humans that freak out if our dogs need that procedure.
Join me as I chat with Jim Nelson and Rene Agredano from Tripawds, who share all there is to know on how to set our dogs up for success to live life on three legs. This info really applies for dogs facing any type of surgery. We cover the surgery itself, pain management, incisional care, activity, possible complications, the importance of weight management and more!
Jim Nelson and Rene Agredano created Tripawds in 2006 when their dog Jerry lost a leg to cancer. The Tripawds Foundation now hosts 1800+ three-legged dog and cat blogs with numerous pet amputation resources and assistance programs. They tell the whole story in their book, Be More Dog: Learning to Live in the Now.
Listen directly on the Wag Out Loud website
Full transcript available.
Or, follow the Wag Out Loud podcast on your favorite podcast player ApplePodcasts | Spotify | Stitcher | iHeartRADIO (subscribe so that you never miss an informative episode).
Never stop learning and take advantage of these short episodes with educational opportunities to be the best advocate for your dog's health and wellness. Share with all of your dog loving friends and let's all be better for our dogs.
From the Episode…
Oh my gosh, you guys, that is an incredible story. And obviously Jerry's situation was for a reason. He was here to help out so many more dogs. And you are sharing that message of Jerry's. So you're living out the most amazing dream, I can't thank you enough for taking that step. And I just think it's so amazing how adaptive dogs are. If they become blind or deaf, or in this instance, you know, a limb is amputated. They just acclimate. It's just incredible. So I love what you guys are doing…
— Krista, Wag Out Loud
Many thanks to Krista at Wag Out Loud for helping us spread the word that it's better to hop on three legs than to limp on four! get the full story about how and why we turned our passion for Tripawds into a full-time labor of love in Be More Dog: Learning to Live in the Now.