Jerry G. Dawg was the first Chief Fun Officer at Agreda Communications, the publisher of his story Be More Dog: Learning to Live in the Now. He assumed the role of CFO at Tripawds after his people formed the online pet amputation support community in his honor when he lost a leg to osteosarcoma.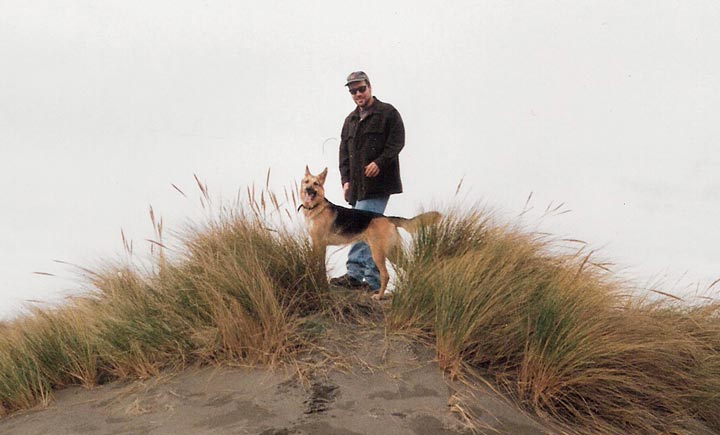 Who was the First Chief Fun Officer?
A Google search returns many results for "Chief Fun Officer" but to Be More Dog authors Rene and Jim, Jerry was the first. He is the one who kept them sane during their long days working to grow their home-based business. It was their CFO who encouraged them to stop and enjoy the day, rather than keep slaving away.
For a peek back in time, enjoy these excerpts from the book, accompanied by old photos of CFO Jerry and his pack.
"Devoted to showing his people how to make the most of each day, Jerry always made sure they put fun before profits. Thus, he was quickly promoted to the most important role in the pack: Chief Fun Officer."

Be More Dog Chapter 2: Who is Raising Whom?
One of his primary tasks as CFO, was to ensure this hard-working couple got outside more often. He did this by insisting on more frequent Jerry Breaks. Lunch time would last a few minutes longer as their favorite game of soccer often became one of keep-away.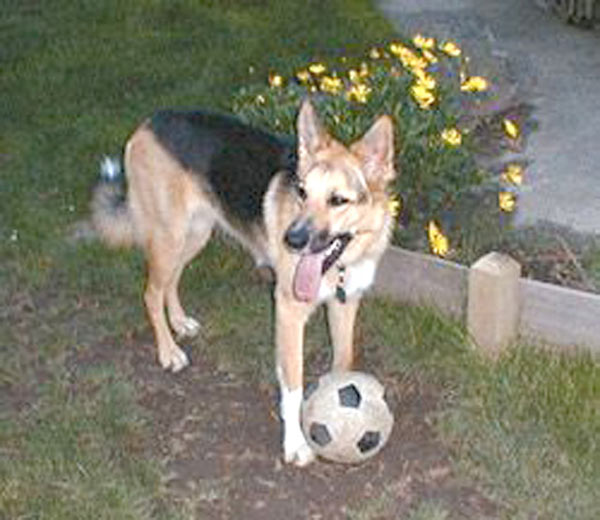 Jerry worked hard as Chief Fun Officer, and he did his job well. As CFO he took on the role of convincing Jim and Rene to stop banging away on their keyboards for ten hours at a stretch. Jerry patiently waited each morning, but after a couple hours, he encouraged them to get off their butts. At least twice a day they obliged, and Jerry got to play soccer.

Be More Dog Chapter 3: The CFO Years

Jerry loved to play soccer, and he made a great goalie. But once he had the ball, if he knew it was time for his people to get back to work, he would keep it. Snagging the ball from mid-flight, he would run and hide behind the big redwood stump in his yard. Jim would yell, "Drop it!" While Rene preferred to take chase. Jerry enjoyed that game the most. Leading Rene around their big yard, he would stop only to shake the ball with a whip of his head. Then they would both be off again.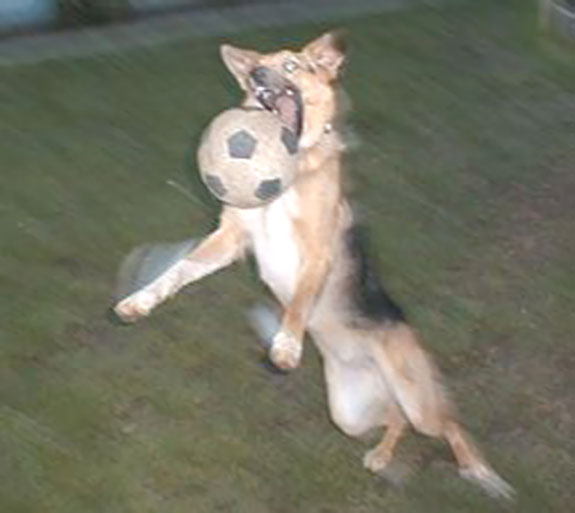 During the dotcom heyday, those workdays would often last long into the night. Deadlines were tight, and clients were demanding. The stress often led to outbursts around the office.
And each time, Jerry fulfilled his CFO duties by diffusing the bad energy with his calm sensibility. It was the only thing that grounded them. One look into his worried eyes brought them back to reality with a reminder of what matters most.
Jim clearly remembers the time he cussed and slammed the phone down after a difficult client call. Jerry quietly walked out of the room and into Rene's office. On his way out, he seemed to look back and shake his head with disappointment.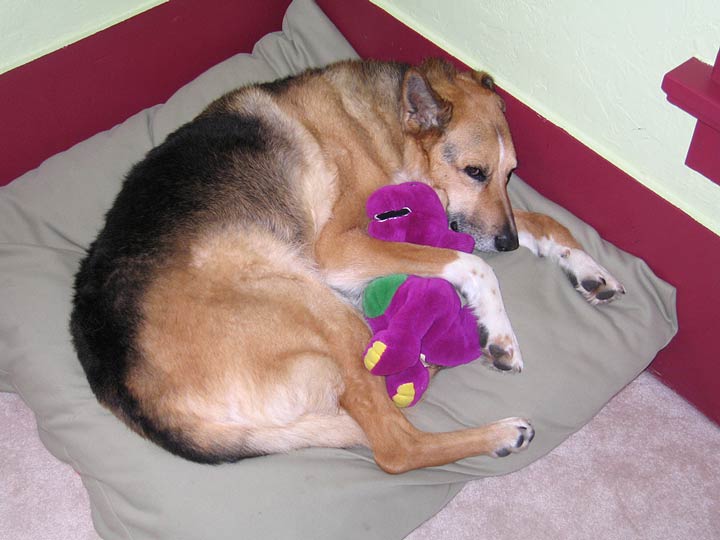 Shortly thereafter, he heard Rene shout at her computer. Seconds later, Jerry came back into his, settled down on his bed, and stared up at him with soulful eyes.
He was perfect for the job of Chief Fun Officer because dogs see the world so much clearer, without complicated emotions, worry, or ego getting in the way.
Their Chief Fun Officer learned the sounds that signaled the end of the workday. Jim emptying the trash icon on his Mac and shutting off the two large monitors on his desk always got Jerry to his feet. If those sounds didn't happen by 5:30, he would nudge the keyboard, whine at the door, or do whatever it took to get his point across.
When they weren't typing, or drawing, or printing, or packaging, or wrapped up in other work, CFO Jerry always made sure his busy people took the time to stop and smell the roses in their yard and the sea breeze at the beach.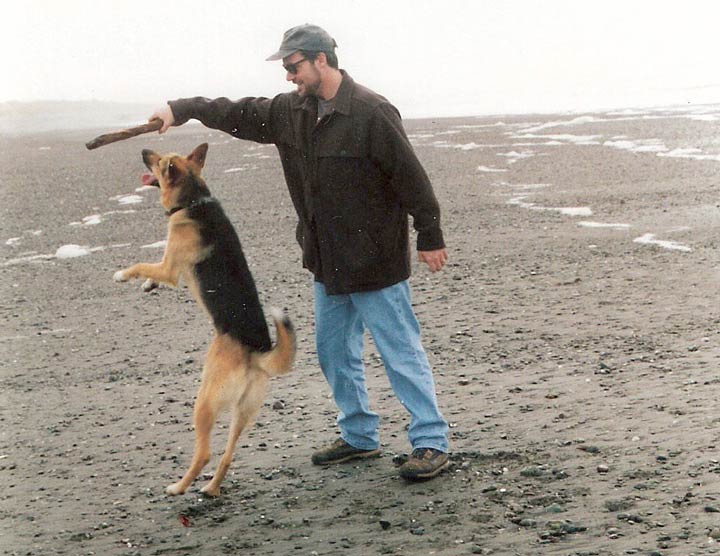 The three of them spent many Friday afternoons at Samoa Beach, Jerry's favorite place. As Chief Fun Officer, it was his job to make his people smile. And he always succeeded, whether it was during a brief Jerry Break, at the beach, or on one of their epic hiking adventures.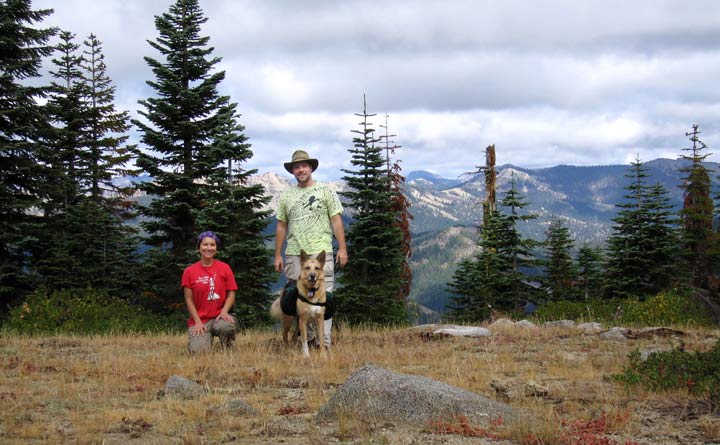 More about those in future posts – once we dig up some more old photos and videos. Or, download Be More Dog now to start reading the whole story, from the beginning.