The Introduction to Be More Dog: Learning to Live in the Now depicts a scene with Tripawds founders Rene and Jim being interviewed for the PBS Documentary, Why We Love Cats and Dogs. But it is the first chapter that takes us back to the very beginning of their story.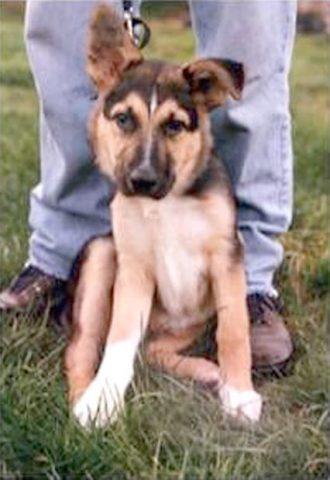 This silly puppy was the first dog the couple took into their lives, and their hearts, as adults.
From the Beginning of Be More Dog
Jim wasn't ready for a dog, he didn't believe they could dedicate the time to raising a puppy since they were constantly working so hard to grow their new home based business. It was a rather stressful and upsetting event while he was away on business that led Rene to demand it was time for a dog…
From Chapter 1: The Happy Threesome
"All right, we'll go to the shelter this weekend." He shrugged and sighed, knowing he was finally caving in. "Just remember, this was your idea!" Deep down he could hear a voice telling him he was also ready for a dog, but he wasn't about to admit it.

On Saturday morning, they walked through the doors of the nearby humane society. Life as they knew it would never be the same.
That skinny puppy they rescued turned out to be the one who rescued them from their workaholic lifestyle. Growing their graphics firm, and serving clients during the crazy dotcom heyday was all they cared about. Until Jerry came along.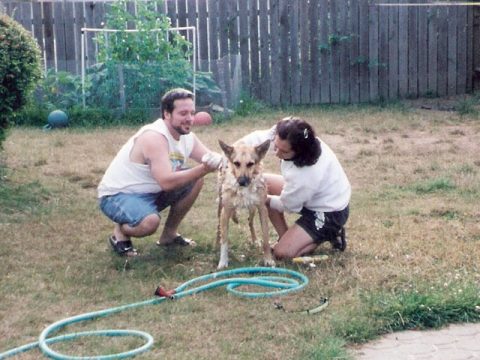 As the Jerry Breaks became more frequent, they had fewer frustrating arguments about work. Jim and Rene slowly learned to follow his lead, and readily agreed that was a good thing.
It was those "Jerry Breaks" that kept them sane. Tight deadlines and the needs of demanding clients were tearing them apart. Working from home in a remote small town, they were still living the Silicon lifestyle, and forgetting the reason the moved so far away from the busy Bay Area in the first place.
Read Be More Dog to discover how Jerry helped Jim and Rene through those early days of their startup, and how he earned the title of Chief Fun Officer. And say tuned for more excerpts from the book, with photos, videos, and links to original blog posts about their travels with Jerry – from the beginning…