Chapter one of Be More Dog hops forward in the story and introduces readers to the happy threesome of Rene and Jim, and their furry soulmate, Jerry G. Dawg. It also describes their first Hoppy Thanksgiving together.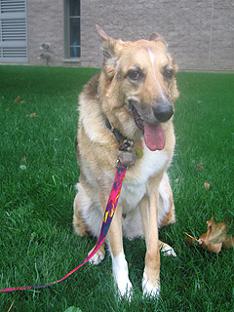 That first chapter provides a quick overview of how Jerry lost a leg to cancer, before starting over and telling the full story from the beginning. Enjoy this sneak peek behind the pages, with a few excerpts from Chapter 1 – along with some photos from those first few days…
Jerry's dream life almost ended in November 2006 when he was diagnosed with terminal bone cancer. Osteosarcoma, to be exact…Surgery would cost Jerry a leg, but not his life. At least not right away.
It was that same week of Thanksgiving, back in 2006, when Jim and Rene created the Tripawds Blog to keep friends and family informed about Jerry's progress.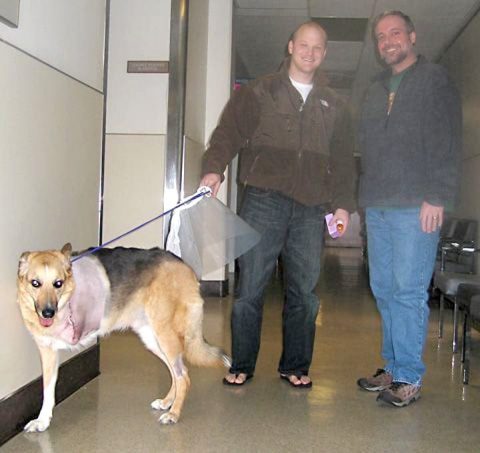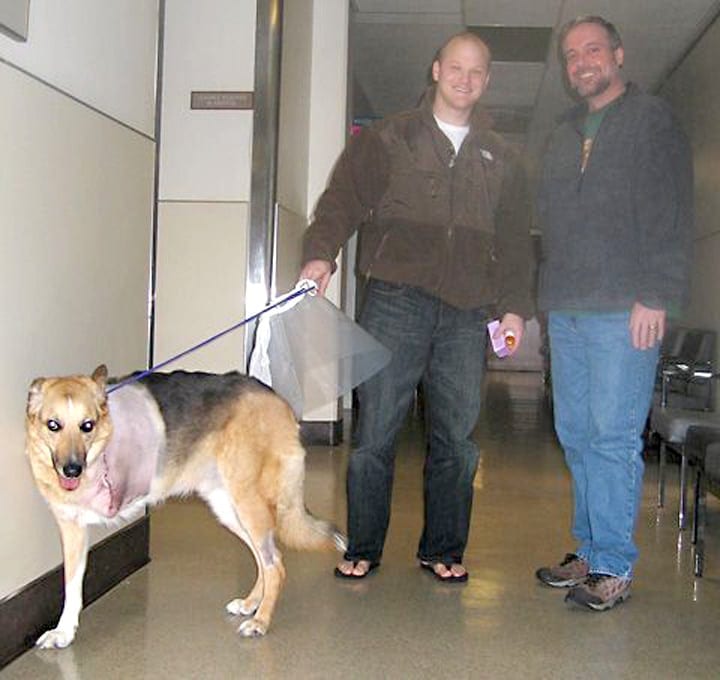 Sitting in a hotel room, anxiously awaiting news about Jerry's surgery, Jim busied himself by building his new website. He had no idea it would one day grow into the Tripawds Community network of more than 1500 three-legged dog and cat blogs.
On Thanksgiving Day 2006, this trio had much to be thankful for. When Jerry triumphantly hopped down the white, sterile hallway with his surgeon to greet Jim and Rene, their eyes filled with tears…Rene had promised she wouldn't cry, but that didn't last long as she wept, "Oh, Jerry, please don't hate us! I'm so sorry!"
With a 5+ hour drive back to their home town of Eureka, Jim knew there would be no Thanksgiving turkey that year. But he had much to be thankful for indeed.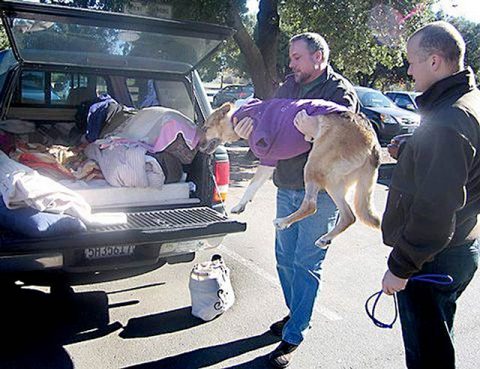 That day they learned their first lesson about Tripawds, that dogs really are are born with three legs and a spare.
But Jerry wasn't sorry…Wagging his tail wildly with enthusiasm, he seemed to say, "Look at me, not my missing leg. I am still me, and I don't hurt anymore!"
As shocking as the scar was, seeing Jerry hop toward them with a smile on his face proved they had made the right decision – which they almost didn't do!
The unforgettable morning started with sadness but ended with a joyful Jerry hopping out of the clinic and on with his mission. He was alive, and he would show people it really is better to hop on three strong legs than to painfully limp along on four.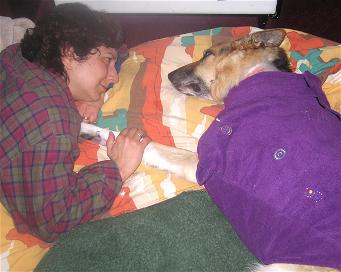 Stay tuned for more excerpts from Be More Dog: Learning to Live in the Now complete with photos, videos and links to original blog posts for more details. And don't miss these first few Tripawds blog posts – including a rather Hoppy Thanksgiving – from November, 2006