We're kicking off the 2019 Tripawds Cyber Savings early here in the Be More Dog Shop, with Black Friday and Cyber Monday promotions that last all week, and then some. Use the following coupons to save on Be More Dog: Learning to Live in the Now, and the Be More Dog Gift Package!
Be More Dog books make a great gift for your veterinarian, favorite vet tech, or anyone with a three legged dog, and all animal lovers. Both the printed book and e-books feature an original title panel illustration and foreword by MUTTS creator, Patrick McDonnell.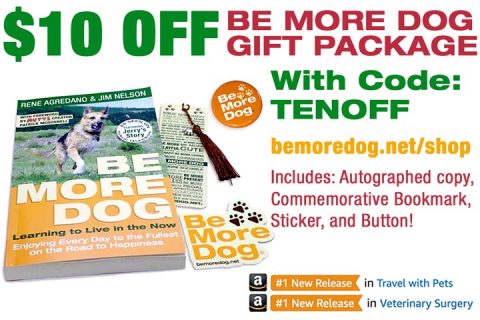 Get $10 OFF Be More Dog Gift Package
The Be More Dog Gift Package includes an autographed paperback copy, Be More Dog button, die-cut sticker, and commemorative bookmark – with free shipping (U.S. only). Immediate e-book download included with your purchase!
Save $10 off this special gift package. Need great gifts for your Tripawds pals? Use the coupon as often as you like. But there are only a a limited number available in stock, so order early.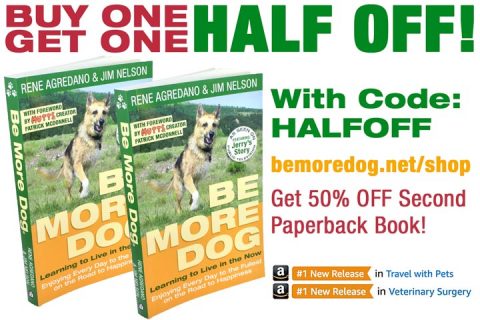 Get HALF OFF Be More Dog Paperback Books
Buy one paperback copy for yourself, get one at half price for your veterinarian's office. The lessons learned from Tripawds Chief Fun officer are sure to be enjoyed by anyone wishing to live in the now!
Get 50% off your second copy of the Be More Dog paperback book. Both books must ship to the same address. Want more than two books? Place a separate order and use the coupon again!
Cyber Savings offers valid while supplies last. Coupons expire at midnight on Cyber Monday, December 2, 2019.
Be More Dog is the inspiring story of how one dog with terminal cancer led his people on a spiritual journey that turned their life around and opened their eyes to the importance of living in the Now.  Tripawds founders Rene and Jim published the book on October 3, 2019 and Amazon has ranked the book a #1 New Release in Travel with Pets and Veterinary surgery.
Stay tuned to the Tripawds Gear and Tripawds Gifts blogs for more 2019 Cyber Savings being announced Thanksgiving day!