Words cannot express our surprise, honor, and gratitude for MUTTS creator Patrick McDonnell when he agreed to write the foreword for Be More Dog. Granted, that was nearly nine years ago. So we were even more humbled by the special illustration of our beloved Jerry, he provided with his thoughtful words.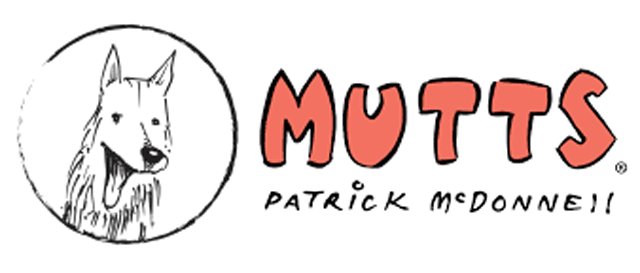 Both the paperback edition and Be More Dog e-books feature McDonnell's original drawing of three-legged Jerry, sitting and smiling with his pals Earl and Mooch. We were blown away by this beautiful sight at first. Seeing our Jerry depicted alongside MUTTS characters was such a surprise! We didn't even notice what Earl and Mooch were doing. Their subtle tribute to him is brilliant.
For now, you'll have to get the Be More Dog book and check out the dedication page to see what we mean. Rest assured, if you are a fan of MUTTS Title Panels, you will love it!
"This powerful book is a love note to all who have had the honor and joy to share the companionship of a beloved dog."
– Patrick McDonnell (MUTTS Creator)
Patrick McDonnell MUTTS Strip at Core of Be More Dog
We will share with you this MUTTS strip from March, 2008. This strip plays a vital role in telling Jerry's story. It is also prominently featured in in a chapter of Be More Dog, titled "Living in the Now".
Spoiler Alert: This particular strip touched Jim and Rene the morning after they discovered Jerry's cancer had returned. It helped them understand what their three-legged zen master was trying to teach them about living in the Now.
Another scene in the Be More Dog epilogue, also describes how the strip entered their lives once again when they discovered it in the center of Guardians of Being – the beautiful and enlightening book illustrated by Patrick McDonnell with words of wisdom by Eckhart Tolle. It can also be found among many other MUTTS favorites in the MUTTS treasury, Stop and Smell the Roses…just another one of the many lessons Jerry taught Jim and Rene during their time together.
MUTTS Fans May Also Enjoy:
Be More Dog Authors Explain Living in the Now
The Significance of Now in Be More Dog Story