The first line of the new Be More Dog book by Tripawds founders Rene Agredano and Jim Nelson reads:
This is a true story, more than twenty years in the making.
The story they tell in this enlightening book follows the life and times of their first dog Jerry – from puppyhood, through his amputation recovery, to the two years they spent traveling the country together in an RV after his ostoesarcoma diagnosis – and sheds light on the popular pet amputation support community they have grown in the years that followed.

Now, on the eleven-year anniversary of Jerry's passing, we are happy to announce that Be More Dog is now available for purchase!
Visit the Be More Dog Store to buy the paperback edition, or download the e-book. Advance orders are also now being accepted for the special edition Be More Dog Gift Package.
You can also now find Be More Dog on Amazon and other online retailers. Or, ask your local bookstores and libraries to stock their shelves and order one for you from the Ingram catalog.
Please join us in celebrating this big day by sharing the news on social media with the hashtag #bemoredog so we can show the world how it is better to hop on three legs than to limp on four!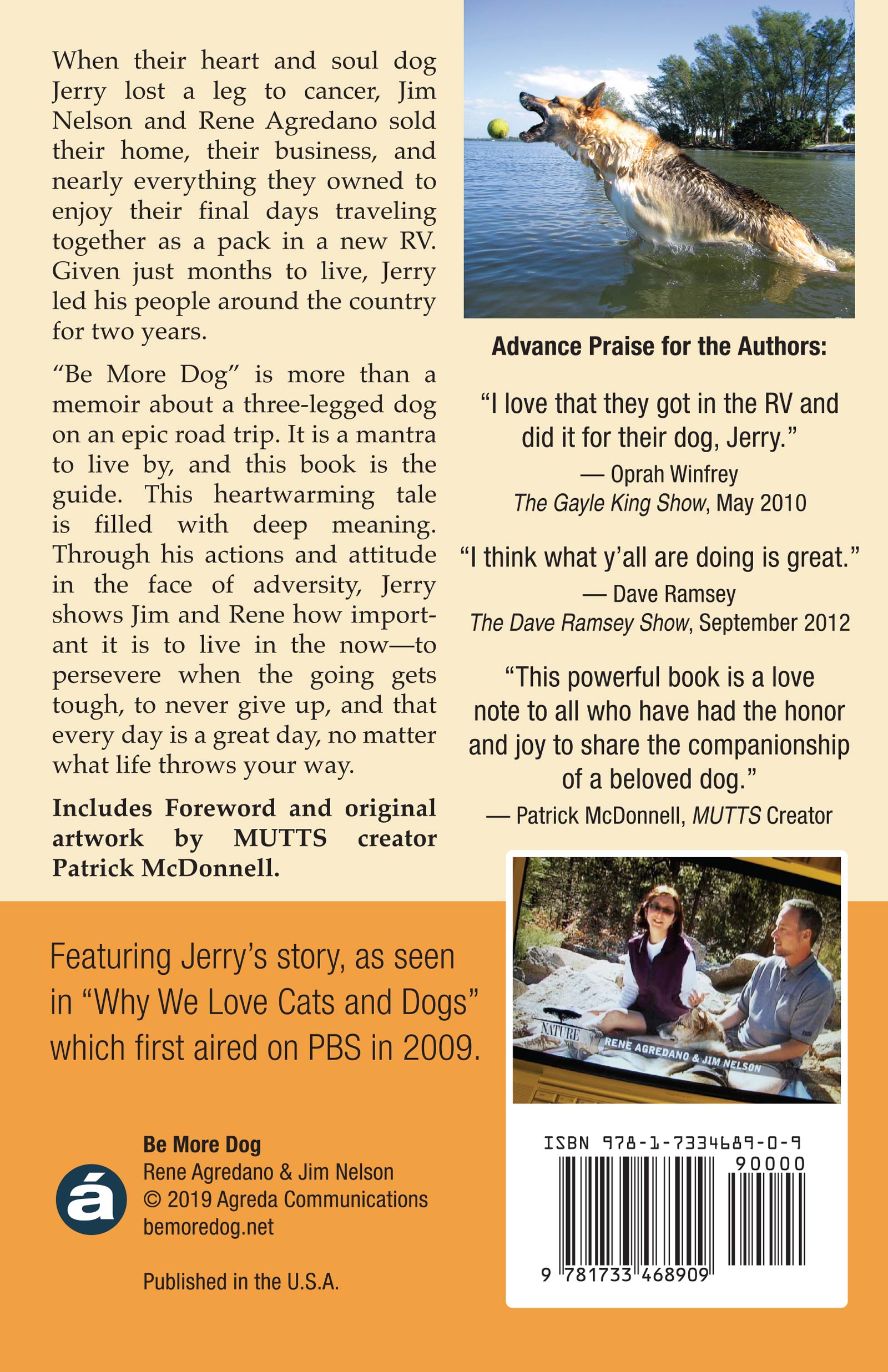 For a sneak peek at what you find in the Be More Dog book, read this short synopsis from the back cover…
When their heart and soul dog Jerry lost a leg to cancer, Jim Nelson and Rene Agredano sold their home, their business, and nearly everything they owned to enjoy their final days traveling together as a pack in a new RV. Given just months to live, Jerry led his people around the country for two years.
"Be More Dog" is more than a memoir about a three-legged dog on an epic road trip. It is a mantra to live by, and this book is the guide. This heartwarming tale is filled with deep meaning. Through his actions and attitude in the face of adversity, Jerry shows Jim and Rene how important it is to live in the now—to persevere when the going gets tough, to never give up, and that every day is a great day, no matter what life throws your way.
Includes Foreword and original artwork by MUTTS creator Patrick McDonnell.
Featuring Jerry's story, as seen in "Why We Love Cats and Dogs" which first aired on PBS in 2009.
Stay tuned for more details about this inspiring new book, and a peek behind the scenes with snippets and links to videos from our travels with Jerry. If you are interested in reviewing Be More Dog, please contact the authors here, or check out the various media resources we have prepared for use in your review.
Speaking of reviews, if you have already read Be More Dog, please submit a link with your Amazon review to access a special gift and bonus material we know you will enjoy