As promised in the recent video snippet, a short interview with Dave Berman talking with Be More Dog authors Rene Agredano and Jim Nelson is now live on Tripawd Talk Radio. In this teaser episode, their long time friend asks them about the significance of living in the Now. Here is a brief video soundbite of the show opening:
Listen to the full show below. It's only 10 minutes long, but says a whole lot about the book's title, Be More Dog: Learning to Live in the Now. Jim sums it up with a description of the MUTTS comic strip by Patrick McDonnell which illustrates a central theme throughout the book.
Rene and Jim have now appeared on a couple different podcasts to discuss their new book, Be More Dog. The concept of "Living in the Now" and the MUTTS strip have come up every time.
"It's really what the book is all about," says Jim. "That is what Jerry was telling us all along – that living in the present is a gift. That's why they call it the present!"
The strip in question appeared in March, 2008. Jim first saw it the morning after they had received disturbing news that Jerry's cancer had returned. He was distraught, and didn't get much sleep after having a vivid nightmare about Jerry's cancer.
Was it some kind of sign? A genuine grin spread across Jim's face as he looked around for Jerry. Blissfully unaware and content, the dog lay patiently several feet away on a rug, keeping one eye on the table and hoping for a taste of whatever it was that smelled so good…
Nearly a dozen years later, Jim and Rene still have that strip taped up inside their bathroom cabinet as a daily reminder to be more present.
Jerry didn't need Mutts to tell him what he already knew. Every day was today, and the time was always Now. And right now, he wanted to know why they weren't out having some fun somewhere.
Excerpts from Be More Dog Chapter 18: "Living in the Now!"
During their discussion, Dave explains why the concept of Now resonates with him. Not only because of the tattoo he has where most people wear a watch. But also through his work with intentional laughter, and the firm belief that, "Now is always a good time to laugh, play and feel good."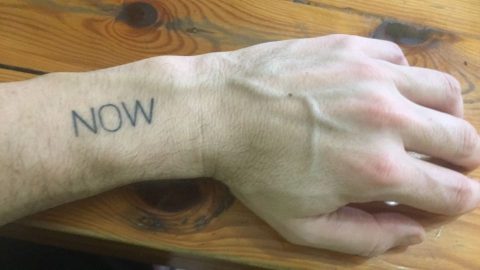 Be. Here. Now. It's one of the main messages Jerry was telling Jim and Rene all along. Read Be More Dog: Learning to Live in the Now for the many examples they share from traveling the country in an RV for two years with their three-legged co-pilot.
WATCH VIDEO PODCAST PREVIEW: