Dog Works Radio host Robert Forto welcomes authors Rene Agredano and Jim Nelson to talk about their new book, Be More Dog as well as Tripawd Dogs, canine cancer, and living in the moment.
As Jim and Rene continue to spread the word about their new book, Be More Dog: Learning to Live in the Now, we will share any media exposure and interviews here to offer anyone interested a deeper look into their story. One of their first podcast interviews – after their brief Tripawd Talk Radio episode – was on Dog Works Radio.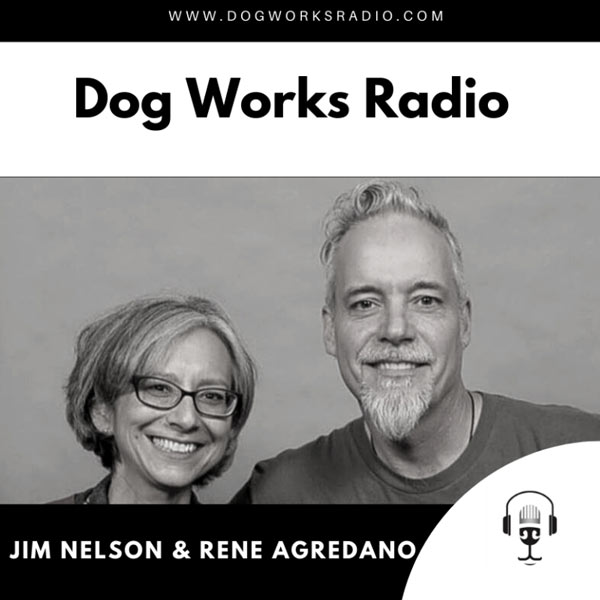 Rene and Jim on Dog Works Radio
The podcast episode featuring Rene and Jim first aired on December 22, 2019. Robert questions the the Tripawds founders about Jerry, the community they created after his amputation
Listen to Podcast Interview Here
From Apple Podcasts: Dog Works Radio is a show about our favorite canine companions. On the show we share training advice, give tips and tricks and interview guests from around the world. We also talk about canine sports, working dogs, therapy dogs and service dogs.
Why Dog Works Radio?
Rene and Jim first reached out to Dog Works Radio because the hosts have two companion podcasts, all about sled dogs and mushing…
"My wife Rene and I have managed the Tripawds community for more than 12 years now. Tripawds is the largest online support community for amputee pets and their people. One of our most memorable members was Calpurnia, a three-legged sled dog we had the chance to meet on a couple training runs years ago. We started Tripawds in 2006, when our dog Jerry lost a leg to the same cancer that took Calpurnia.

Our story was featured in Nature: Why We Love Cats and Dogs, which first aired on PBS in 2009. I also appeared on the Hallmark Channel's, Who Let the Dogs Out. More recently, we have just published our new Book – Be More Dog: Learning to Live in the Now – which features a foreword and original illustration by MUTTS comic strip creator Patrick McDonnell.

Be More Dog tells our story of the many adventures we had traveling the country with Jerry after his amputation. Our visits with Calpurnia are detailed in a couple important scenes of the book."
While they never got around to talking about Calpurnia, the host did ask about Jerry, and the Tripawds community he inspired. Rene and Jim also answer questions about the diagnosis of limb cancers in dogs, whether a front or rear leg amputation is worse, and what it means to Live in the Now.
Follow @dogworksradio on Facebook
Follow Rene & Jim @Tripawds on Facebook
Contact Rene and Jim here to schedule author interviews and get more Be More Dog media resources.