Here's another blast from the past! As promised, we've dug up another video from Jerry's early days on three legs for a deeper look at some scenes from Be More Dog: Learning to Live in the Now. We searched the Tripawds Youtube channel, to find the oldest video from Jerry's first return to the beach after amputation. Scroll down for the video, and read on for photos and excerpts from a scene depicting Jerry's return to the beach.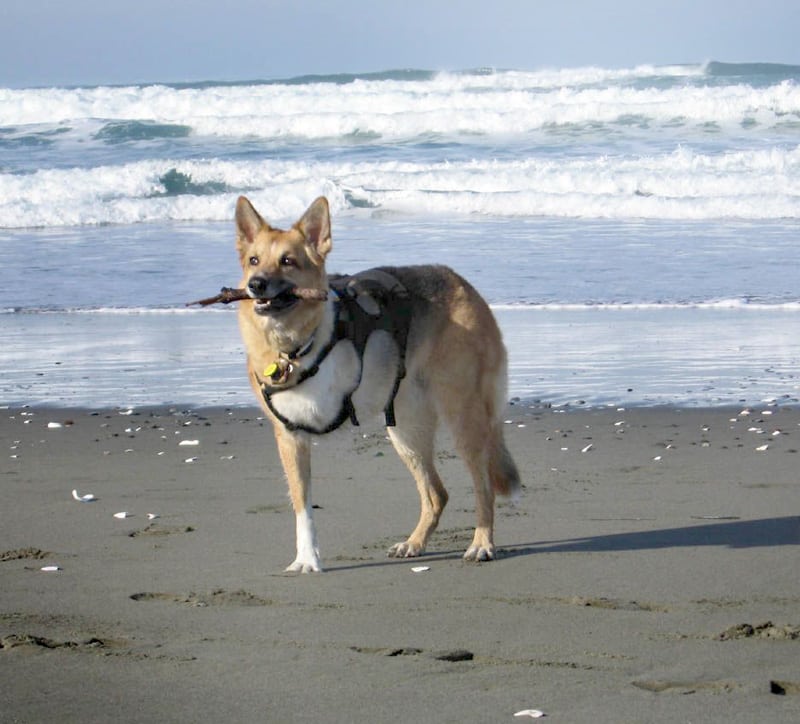 Many scenes in the Be More Dog book illustrate just how much Jerry loved his trips to the beach. As Chief Fun Officer of the small company we were growing from our remote home in Eureka, California, Jerry spent many a Friday afternoon whining. He would pace back and forth between our offices, urging us to quit for the day. He knew Friday was a fun day. And his job as CFO, was to make sure we had fun together.
After the surgery, he longed to return to the beach after the amputation. But we were nervous about that.
…it was three months before they felt confident enough about his stamina to take Jerry back to the beach, his favorite place of all.
Excerpts from Be More Dog: Learning to Live in the Now
We knew nothing about rehab or exercise for three-legged dogs at the time. We wondered how soon to take a dog to beach after amputation.
Rene fretted about sand getting in his incision. Then Jim showed her how it had long since healed up. Jim was concerned about other dogs hurting him. But Rene reminded him that Jerry had already been playing with Winston.
Jerry and his best friend Winston would play pretty rough. After his amputation, Jerry could still hold his own with his big Weimaraner buddy.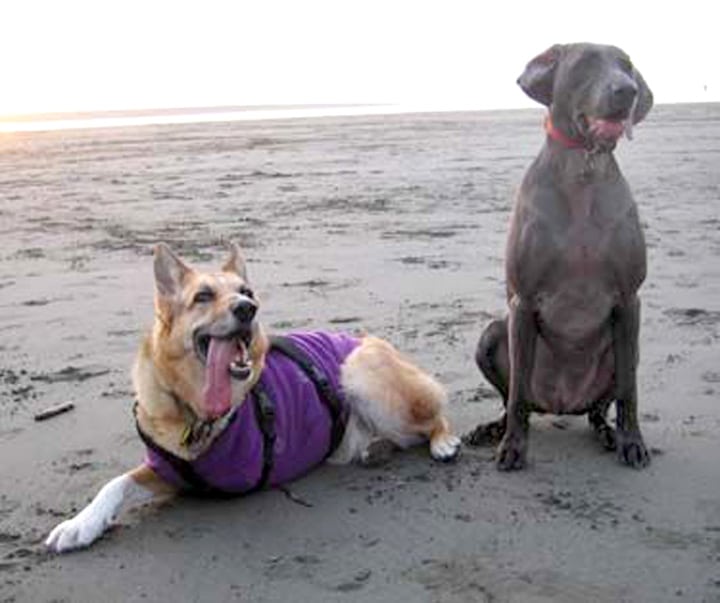 We picked him up from his surgery on Thanksgiving day 2006. By January, we were ready for a return to the beach – Jerry's favorite place.
On his first day back at Samoa Beach, they hovered over Jerry like helicopter parents. Rene made sure he was wearing a sweater, and Jim kept a tight grip on the leash.
Jerry was clearly more ready than we were.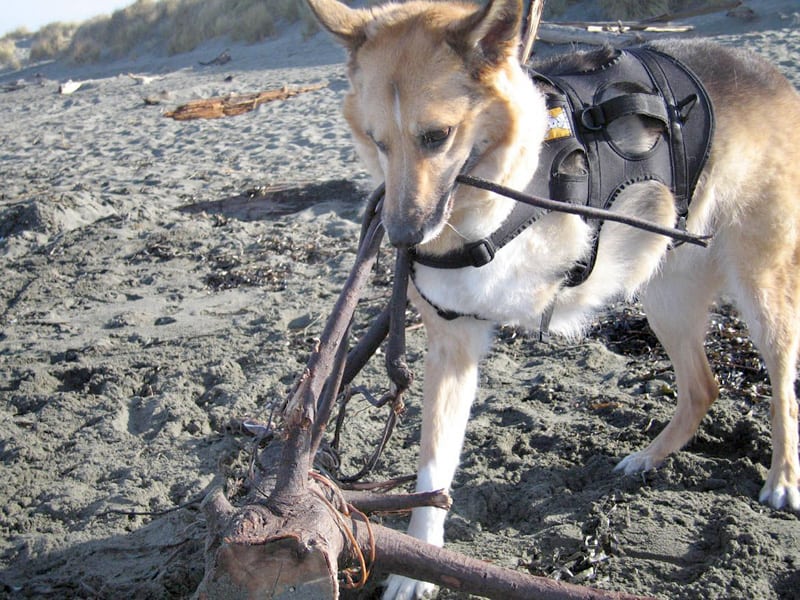 He was raring to go, as soon as he heard his favorite words, "ya wanna…" ending in the best word of all: beach!
The moment his paws hit the sand he was so excited and raring to go, they couldn't hold him back…
Video: Jerry's Return to the Beach After His Amputation
Playing Frisbee…running around off leash…we obviously knew nothing at the time about the importance of moderating Jerry's activity, or incorporating rehab exercises to help him regain strength in the remaining limbs. But none of that mattered to Jerry.
Walking is sand can actually be good exercise for Tripawds. But we knew nothing about that. We were only proud to see our CFO back enjoying the fun he loved so much.
Jim brought out the Frisbee, another game they would later learn is risky for amputee dogs. Thankfully, no harm was done on this trip. Jerry played; they got some great photos and a lifetime of memories.
Stay tuned for more details about Jerry's kelp obsession, and how that played a big part in him making it to the Atlantic coast of Maine after we hit the road to travel the country together as a pack. Can't wait? Get Be More Dog now. Or, download the Be More Dog e-book.