RV Life Magazine is a leading news resource for RVers. TC Wait recently published a book review on this leading RV news site for Be More Dog: Learning to Live in the Now. The staff writer for RV Life did an excellent job describing the essence of the book in an unbiased manner. The positive review paints a vivid picture of how authors Rene and Jim started living their full-time RVing lifestyle after their dog Jerry lost leg to cancer.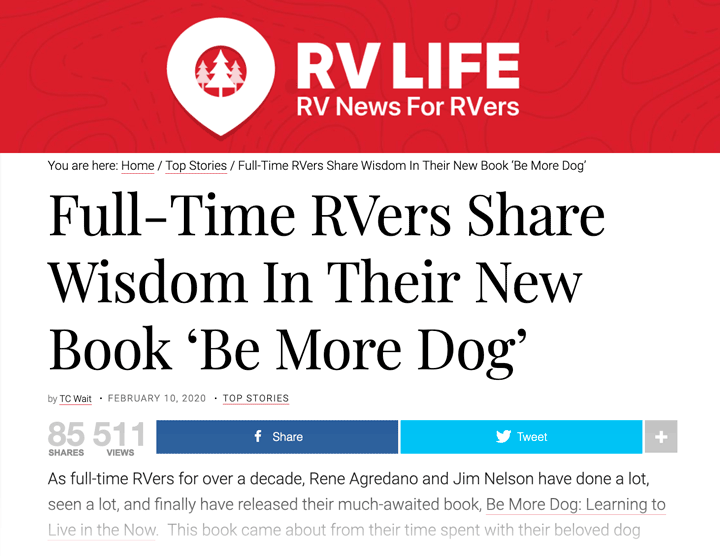 Be More Dog is the ideal book for any animal lover. But it is is also sure to be a hit with RVers, workampers, and digital nomads. Full-time RVing is a common thread woven through all chapters. Jerry's bone cancer diagnosis was the reason Rene and Jim bought an RV and started traveling in the first place. And after nearly thirteen years on the road, they still travel full-time today – managing the Tripawds community and Tripawds Foundation from their mobile headquarters.
Traveling the country together as a pack was their goal for the epic road trip they promised Jerry after his amputation. At the time they had no intention of writing any book. And this was before social media was such a big deal. Their primary focus was to make the most of their remaining time together with their heart and soul dog.
By not being tethered to one place, they found they could better focus on the experiences they were sharing with Jerry. They were having fun and they were, in fact, living much more like Jerry lived. —RV Life Magazine
The book details how Rene suggested they sell their business and get an RV. She planned and budgeted for a year off when they were told Jerry may have less than a year to live. He loved life on three legs for two years. Jim attributes Jerry's longevity to the new nomadic RV lifestyle which had breathed new life into them all.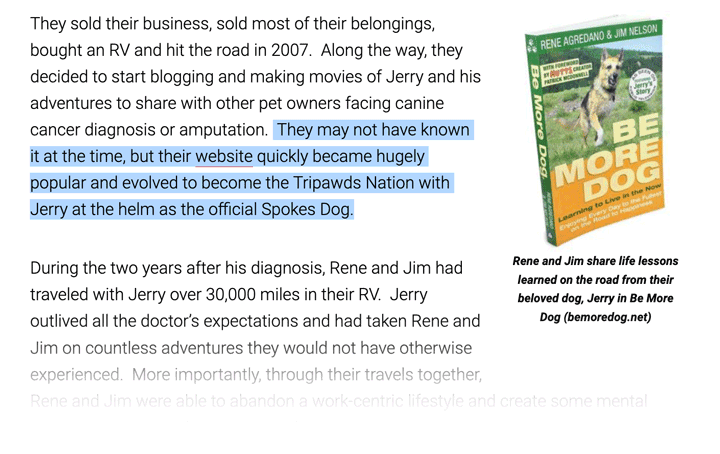 The book is about so much more than a three-legged dog on an epic road trip. It also illustrates how they found their purpose through blogging about Jerry's progress, and turned their passion into a full-time labor of love.
Rene says, "I want people to understand that dogs are more than pets. They are wise teachers and can make us better humans if we just take the time to listen."
The RV Life review highlights key concepts presented throughout the book. It also leaves readers with poignant words of advice from Rene for people dreaming to create the life the want for themselves.
Through Jerry, the couple learned how to adapt to any circumstance and embrace it as a positive thing; to accept it and make the most of it.
Many thanks to TC and RV Life for sharing Be More Dog with the RVing community. From the looks of things, the review was well received. It has already had more than 500 views, and been shared 85 times.