Three Legged Red from Dunham Cellars is a long-time favorite wine of ours. Readers of Be More Dog will understand why. While workamping at Vickers Ranch, enjoying our final few months with Jerry, we discovered the red table wine featuring a dog named Port on the label. He had one front leg, on the left. Hence the name.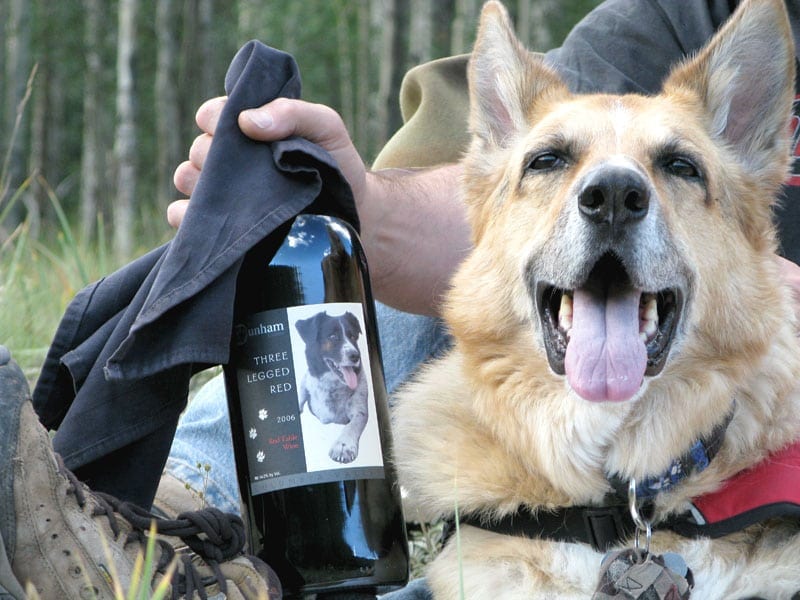 Rene reached out to Dunham Cellars, suggesting we review the wine for Jerry's fans. They sent us a magnum!
"Oh. My. God. Look at this!" One evening after another long day in the office, Rene was replying to Tripawds forum posts. She turned her laptop so Jim could see the picture someone had shared. "We have to write about this."

"Ha! Cool." The photo was of a bottle of wine. A black-and-white dog on the label was missing a front leg. Above three gold paw icons was the name in big letters: Three Legged Red. "We have to get some of that."
– Be More Dog, Chapter 21: Ranch Life
I like a good red wine, and know a bit about blends. But we are by no means aficionados. We took the big bottle, packed a picnic dinner, and loaded Jerry into the Old Blue Jeep. We spent the night camping under stars. As the sun set, we popped open the bottle and made fools of ourselves.
"Whoa. They sent us a magnum!" Jim ripped open the carton and held up the big bottle of Three Legged Red. Jerry inspected the packaging, wondering what the big deal was all about. "This is cause for a celebration!"
– Be More Dog, Chapter 21: Ranch Life
Toasting Life with Three Legged Red
We first published our video in Jerry's blog, with a post titled, Toast Life with Three Legged Red.
SPOILER ALERT: That blog post reveals how this Dunham Cellars wine makes another meaningful appearance much later in the book. We were at the Old Faithful Inn, taking a rather somber tour of Yellowstone National Park. And we had just set Jerry free from his broken body a couple days earlier.
Rene handed Jim the long, leather-bound wine list. "Just pick one. I don't want anything strong. Just wine."

He carefully studied the heavy binder and grinned for the first time
in two days. "Ha! I know what we're having."
– Be More Dog, Chapter 25: Signs
Get a copy of Be More Dog: Learning to Live in the Now. Grab a bottle of Three Legged Red from Dunham Cellars, and tell them Jim and Rene from Tripawds sent you. Then curl up in a comfy chair – or better yet on the ground, under the stars. Join us on our journey, and enjoy our story while sipping your wine. Then submit your review here to access bonus material and a free gift!