Every day is a great day indeed at Vickers Ranch. As promised in my last post with photos from Vickers Ranch scenes in our Be More Dog book, Rene and I have returned to the ranch for another summer of workamping. And yes, those words are still visible on the old shop window, barely.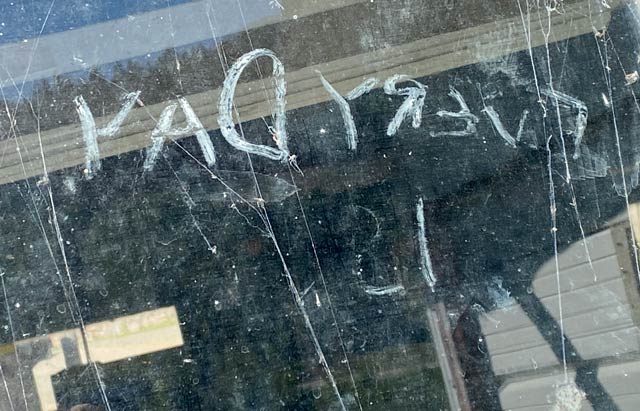 The pane below must have been replaced, or finally broke. The second part of the that begins Chapter 21 is now missing.
"Every day is a great day."
Long ago, someone had scratched that phrase onto the dirty, cracked windowpane. Today, Jim stood in the big metal barn at Vickers Ranch and wondered who.
– Be More Dog, Chapter 21: Ranch Life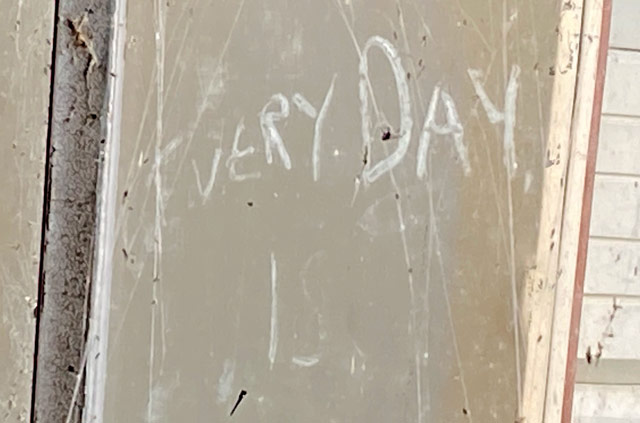 It's a surprise that any of it is still legible at all. Considering it has been thirteen years since I first stepped into that big dusty shop. And, nobody knows when it first appeared, or who did it.
Random containers of used motor oil or brown paint lay scattered among rusty old tools, dirty shop rags, and a disassembled weed-eater nobody had bothered to fix. Hydraulic oil, hayseed, sawdust, and dried elk blood splatters decorated the sturdy workbench holding one hundred years of hardworking history.
Vickers Ranch is one of very few places I feel "at home" since hitting the road with Jerry more than 14 years ago. It's good to be back again. In many ways, it feels like nothing has changed since our first summer here back in 2008.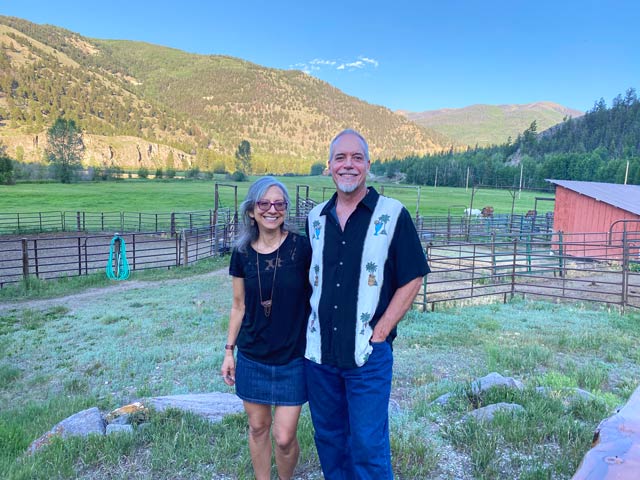 We Return Once Again to Vickers Ranch
We've returned to work at Vickers off and on, for nearly every summer since. And as usual, one of my first jobs was to clean up the shops.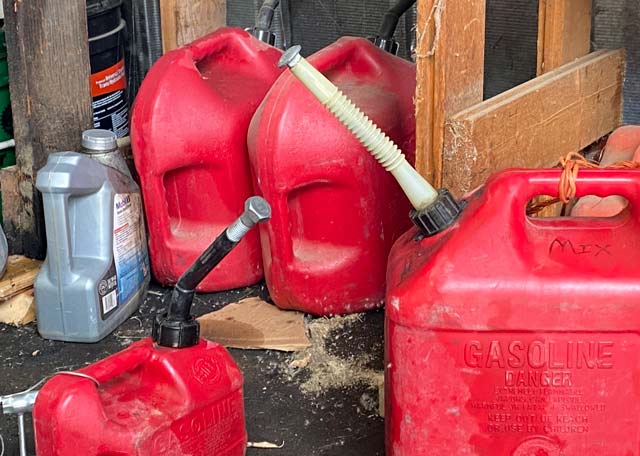 A pile of chains lay alongside a small gas can with a big bolt stuck in the spout as a stopper. Jim lifted the container to read another message, this one carved into the eight-inch-thick tabletop: "Keep Area Clean!"
Technically, this scene we described took place in the big metal shop. There, the words "NO MESS" were carved into the workbench under all the clutter.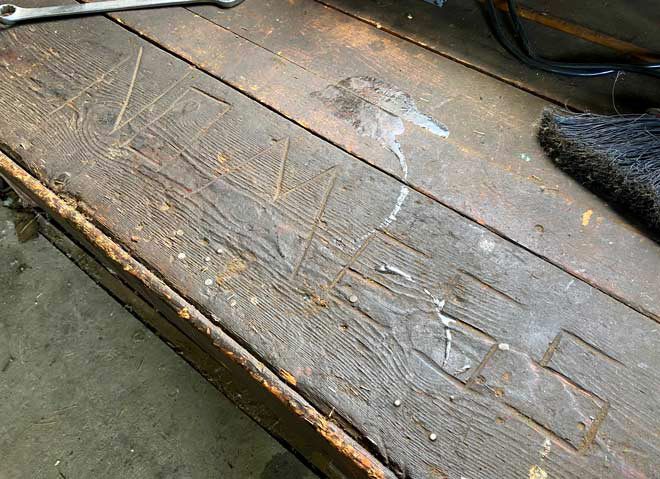 A dusty, cockeyed deer head with a torn ear watched over the shop, precariously hanging on by thick layers of cobwebs. Next door, a smaller shop housed all the woodworking tools for the self-contained operation. Jim smiled. He felt right at home.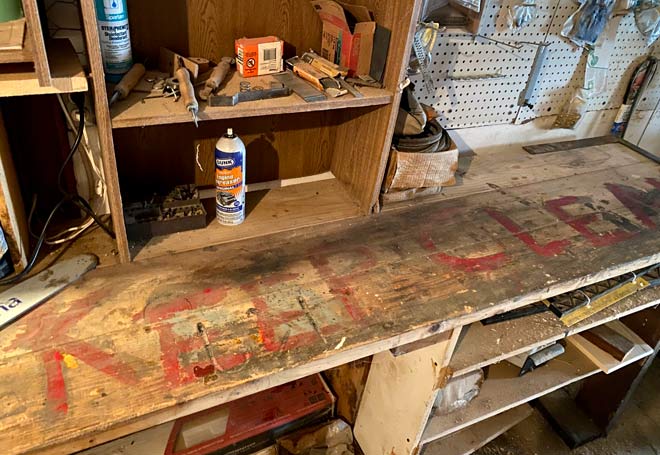 Cleaning up the wood shop this year, I discovered that is where I revealed the words "KEEP CLEAN" under the mess piled on top.
"I think I'm gonna like it here," he said to his new boss while looking around. The shop had everything anyone might ever need to do just about anything…

"Good!" Larry Vickers was a man of few words.
Who Wrote those Words on the Window?
While helping Larry repair a tractor tire the other day, I pointed to the window and asked him if he knew who wrote those words, "Every Day is a Great Day." He furrowed his brow for a moment and thought. Then he simply said, "Nope." Larry is a man of very few words, indeed.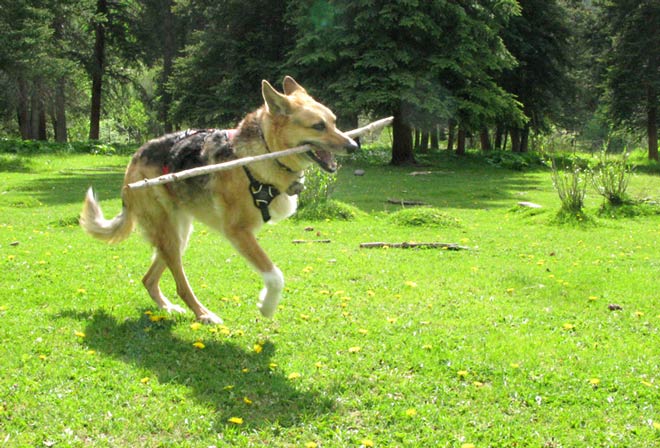 Returning to Vickers always brings back vivid memories of that bittersweet first summer here. That was our last summer with Jerry, when he showed us that every day is a great day, regardless of what life throws your way. We illustrate the good and bad memories from that summer in chapter 21 of Be More Dog – fishing, camping out under the stars, refining Jerry's cancer diet, and more. Stay tuned for more excerpts and photos from our first summer on the ranch, or pick up your copy of Be More Dog to get the full story.