This may be the first of many posts describing Vickers Ranch scenes which we included in our book, Be More Dog: Learning to Live in the Now. Why? Because that's where Jerry taught us that every day is a great day. And, we're returning to enjoy workamping at Vickers Ranch again this summer. We briefly explain workamping in the book. It's a relationship where RVers work in exchange for a place to camp, often with pay – and lots of perks. And the perks that first year at Vickers Dude Ranch were plenty! We met wonderful people. We enjoyed working on the ranch. And, we had the most beautiful setting to spend our last summer together with Jerry. Oh, and then there was ol' Perk Vickers himself.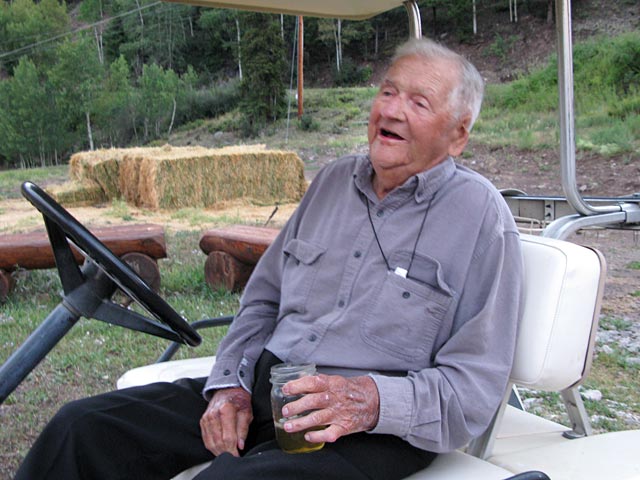 We introduced Perk in our first of various Vickers Ranch scenes because he had a favorite saying. It struck home with me, because I believe Jerry was living by those words every day. Perk was 95 years young when we met him, that first year on the ranch. We introduce him a scene where he pulled up in his golf cart after I finished cleaning out the shop my first day on the job.
Jim raised his voice a few decibels. "I said, how ya doin' today?"
"Just great. Every day is a great day!"
– Be More Dog, Chapter 21: Ranch Life
Every day is a great day indeed. I couldn't find the photo I thought I took of the dirty shop window with those words rubbed into the dust long ago. I'll never forget catching a glimpse of it after saying goodbye to Perk that year.
"Thanks. What's your name?"
Jim didn't bother with an answer. The funny old man was already
on his way. He caught a glimpse of that cracked window on the shady
side of the shop and smiled at the saying: Every day is a great day.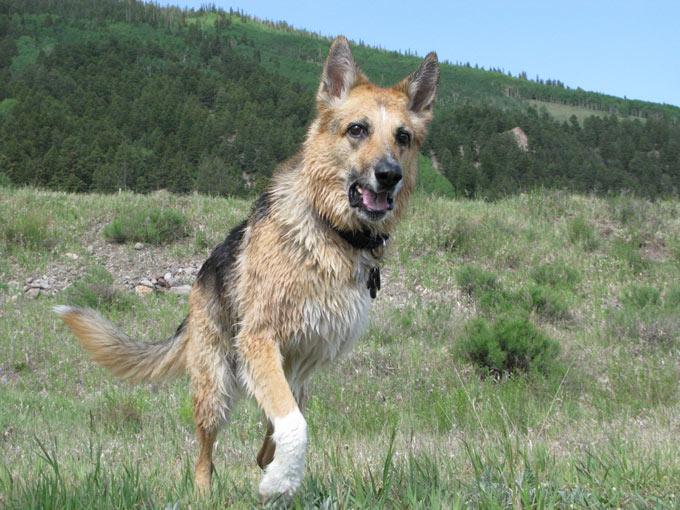 Vickers Ranch Scenes of Jerry Swimming
We snapped this photo at Jerry's favorite swimming spot on the ranch. More than ten years later, that would become the hero shot for the cover of our Be More Dog book.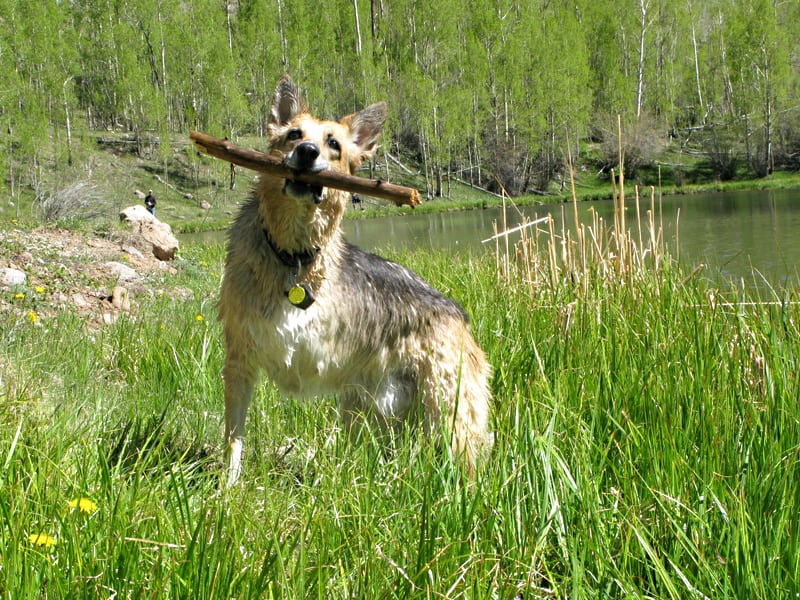 Honestly, Jerry loved any chance he had to swim that summer.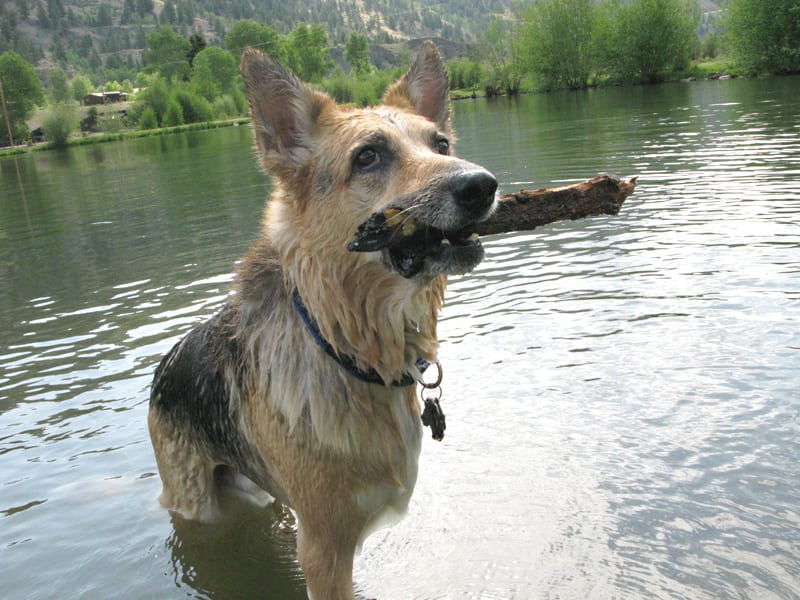 And he had plenty of chances.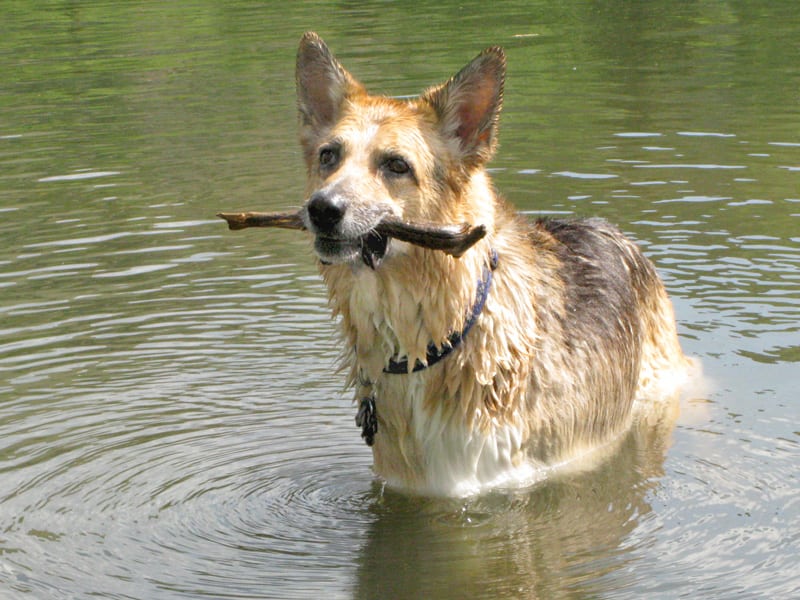 Jerry also loved his sticks. And he had plenty of those to choose from while swimming in the many lakes around the ranch.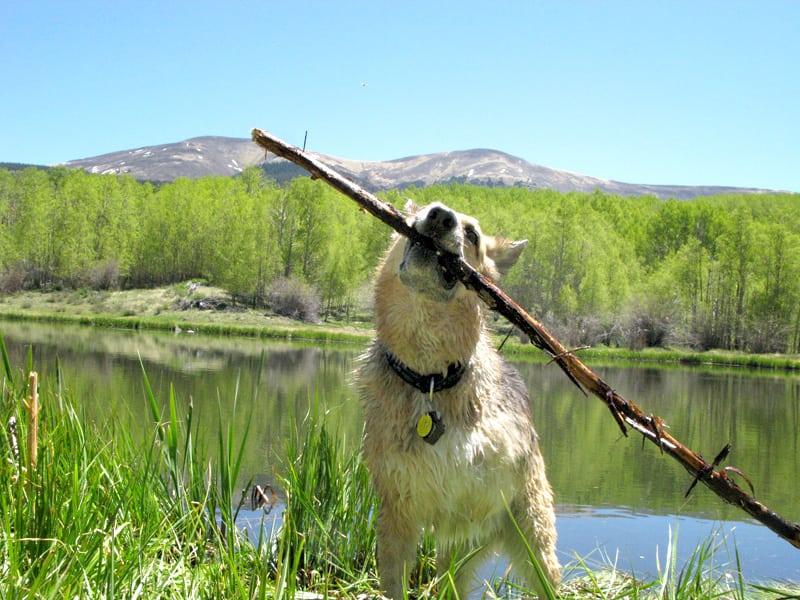 For as long as he had left, they would make the most of each day.
Exploring the mountains, swimming in lakes, hiking, relaxing, and
letting Jerry set the pace.
– Be More Dog, Chapter 20: Onward and Upward
Not every day was a great day in the Vickers Ranch scenes we portray in the later chapters of our book. But they are all very moving and memorable. Find out for yourself by downloading the Be More Dog e-book, or pick up an autographed paperback gift edition.
And if you're in Lake City this summer, drop by Vickers Ranch and say hi! Rene will be working in the office. I'll be out and about doing ranch stuff, retracing my steps through some of these Vickers Ranch scenes. I'll certainly be remember the good times we had there with our Chief Fun Officer Jerry. I doubt anyone ever cleaned that window, so maybe I'll get a picture proving that every day is a great day.