The Feast of Saint Francis is a very special day for us. And, it has significant meaning in our book, Be More Dog: Learning to Live in the Now. We said goodbye to Jerry on October 3, 2008. The Feast of St. Francis falls on October 4. As we wrote in the Tripawd News blog that week, "Catholics know him as the patron saint of animals, the environment and Italy. It is customary for Catholic churches to hold ceremonies honoring animals around his feast day of October fourth." We provide a bit deeper insight in our book…
"The next day, Jerry was once again the star for a final afternoon of filming. They trailed him around the historic Santa Fe Plaza while an assistant followed, handing model release forms to anyone who wandered within the camera's view. They stopped at the entrance of the Cathedral Basilica of Saint Francis of Assisi, and to Rene and Jim, it felt like the universe had put them right where they needed to be."
– Be More Dog, Chapter 18: Living in the Now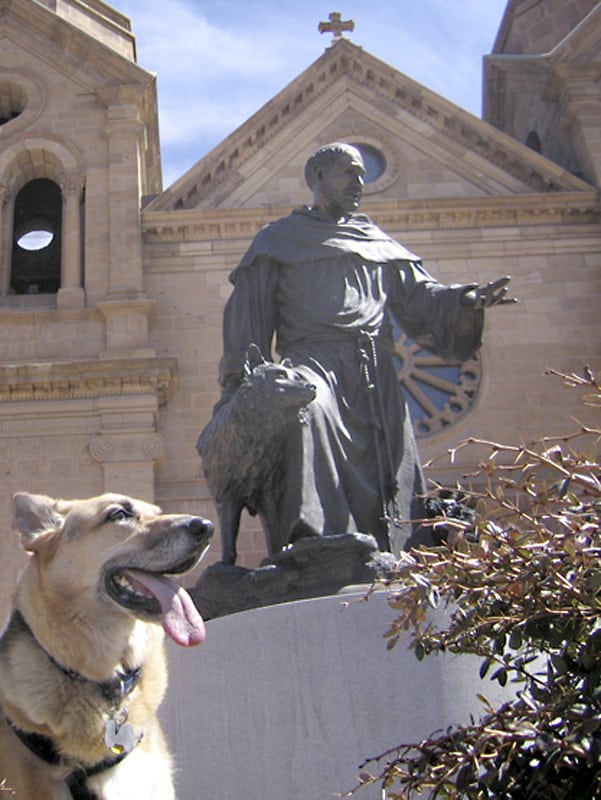 Significance of the Feast of Saint Francis in Be More Dog
It was March, 2008 when we visited the Saint Francis of Assisi Church in Santa Fe, New Mexico with Jerry. That was when the PBS documentary crew was filming us for the Nature episode, Why We Love Cats and dogs. They had followed us for Jerry's oncology check-up, when we discovered his cancer was spreading throughout his body. Our stroll around the plaza felt surreal, and therapeutic. The smile on Jerry's face was proof to me that it was just what we all needed after that appointment.
"They looked up and smiled at the statue of the patron saint of animals, the man who cared for the sick and praised all God's creatures as equal. They weren't devout Catholics, but raised in the Church, they knew that each year the world pays homage to this saintly soul on October 4, the Feast of Saint Francis Day."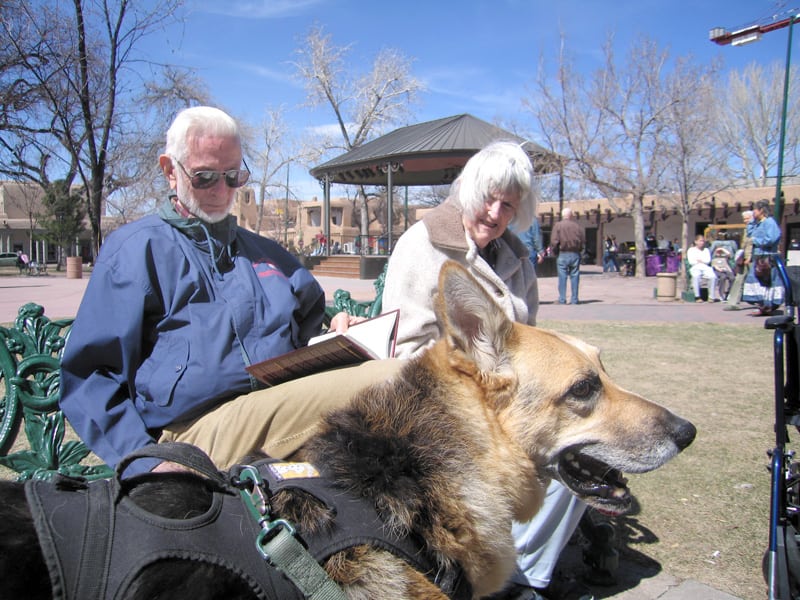 As we walked around the Plaza, being followed by the camera crew, Jerry continued to fulfill his duties as our Chief Fun Officer. He never ceased spreading cheer, wherever he went. On that sunny day in March, the Feast of Saint Francis on October 4 seemed so far off. Yet it came so quickly.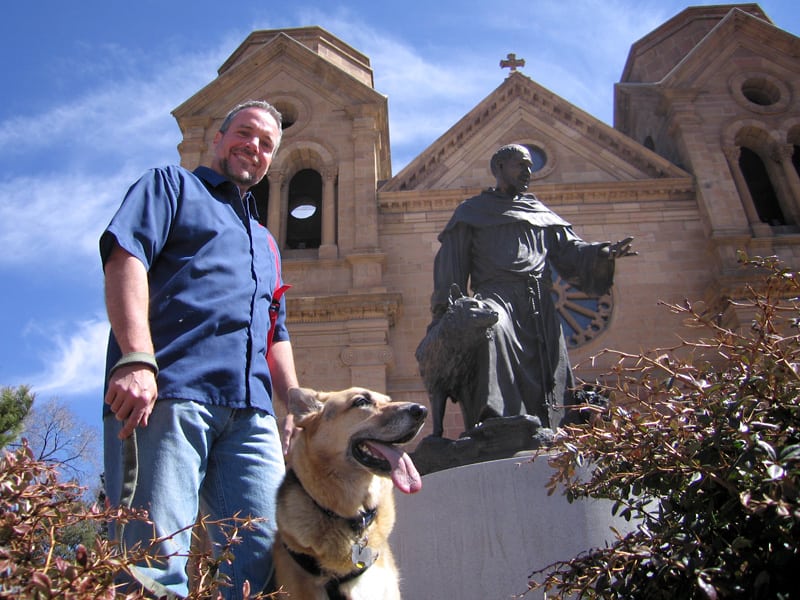 The holy day was a long way off on that sunny afternoon, but the next time it rolled around, October 4 would take on a whole new meaning for them.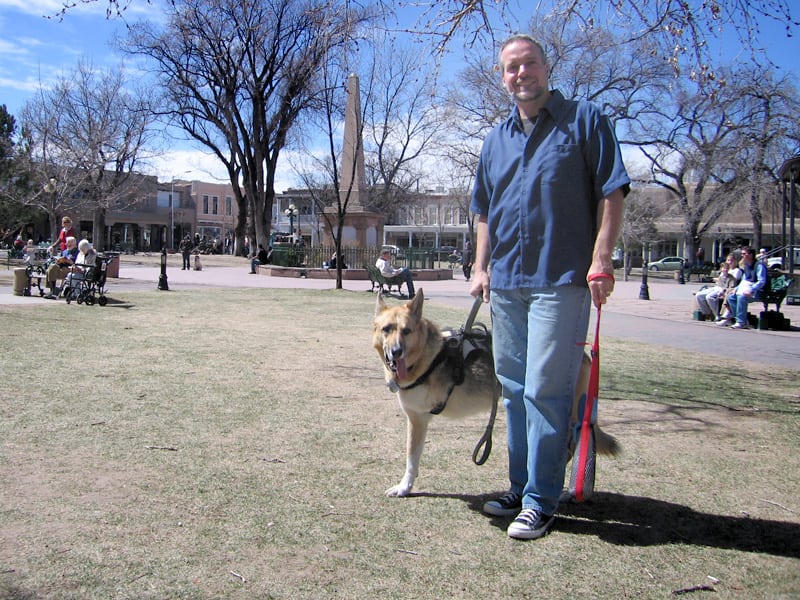 Why Jerry Chose His Time to Go
All the recent Blessings of the Animals got me thinking about Jerry and those whirlwind days in Santa Fe. They always do. Without a dog this year, we had no buddy to bless. But I don't view this rime as sad. We will always celebrate Saint Jerry Day on October 3.
We shared A Prayer of Saint Francis of Assisi and more details in Jerry's voice when we wrote that original blog post from so long ago: How I Chose My Time to Go
Related Reading:
Why We Love Cats and Dogs Tells Be More Dog Story on PBS
The Significance of Now in Be More Dog Story