The Ingram book catalog is where most bookstores and libraries purchase their books. This is why we decided to self-publish our book Be More Dog: Learning to Live in the Now through Ingram Spark, in addition to making the book and e-book available on Amazon. The "Publisher Selects" section of the latest edition of the Ingram Advance (February, 2020) catalog features Be More Dog on page 84.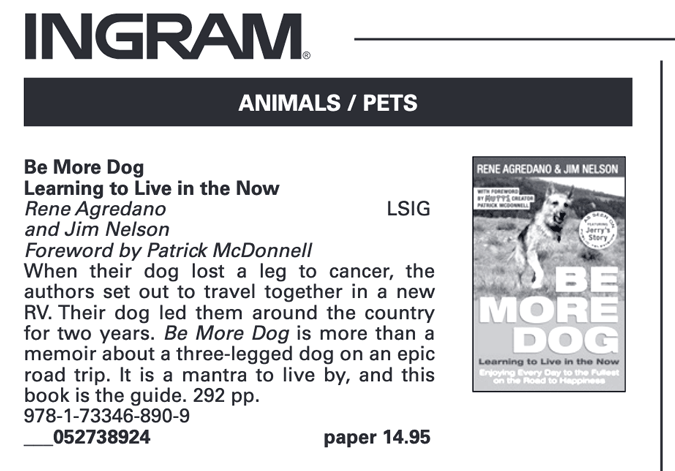 From the Ingram Book Catalog
ANIMALS / PETS
Be More Dog: Learning to Live in the Now
When their dog lost a leg to cancer, the authors set out to travel together in a new RV. Their dog led them around the country for two years. Be More Dog is more than a memoir about a three-legged dog on an epic road trip. It is a mantra to live by, and this book is the guide.
292 pp.
978-1-73346-890-9*
___052738924 paper 14.95
*ISBN for easy reference if ordering books anywhere.
As authors, we wholeheartedly support independent bookstores. Of course, we prefer you purchase the Be More Dog paperback or any e-book format, or the special signed gift edition right here from our Be More Dog Shop. But if you prefer to shop local from your favorite bricks and mortar store, you can now simply ask for Be More Dog by name.
Booksellers and librarians can now order Be More Dog directly from the Ingram book catalog. Provide them with the paperback ISBN number (978-1-73346-890-9) and they will be able to order it for you.
For more information about the Ingram book catalog for self-publishers, see these resources:
Ingram: Book Catalogs For Top Titles
Book Publishing News: How Effective Is Ingram Advance?
BookVenture: Ingram Advance Catalogs