We first shared Jerry's shamanic journey in a November, 2007 Tripawds blog post titled, A Journey with my Shaman. We published more details about this video we shot with animal communicator Lesley in chapter 13 of Be More Dog: Learning to Live in the Now.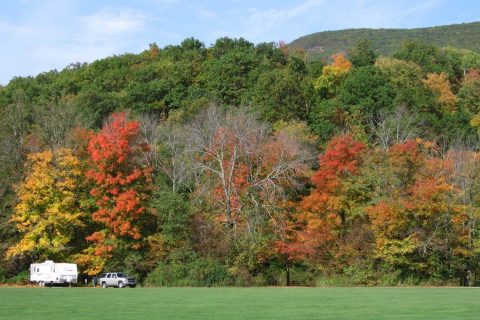 Throughout the "Tripawds Coast to Coast" chapter, we document our travels with Jerry across the country as we approached the Atlantic Coast of Maine. Along the way we camped along the Battenkill River in Vermont.
Plenty of campsites were waiting at a nearly empty RV resort nestled along the Battenkill River, where giant maple and elm trees were showing off blazing red, yellow, and orange foliage. Each afternoon a gentle breeze scattered large, colorful leaves into the sky, spreading brilliant hues that served to remind Jim and Rene that time was moving on.
— Be More Dog, Chapter 13
Animal Communicator Meets Jerry on Shamanic Journey
We met our first animal communicator at that campground in Vermont. Lesley told us about her experience as a shamanic healer. And when she asked, we agreed to have her meet Jerry on a shamanic journey. Enjoy our original video interview below. Then read on for excerpts from our book where we discuss details about our first animal communicator encounter.
Lesley managed the campground. We did not expect to hear what she said when she approached us at our site.
"I'm a shaman," she explained after introducing herself. "I work with pets and people to take them on spiritual journeys. I try to heal souls and make people happier by helping them understand their animal companions better. Do you mind if I do a reading on Jerry? He's such a beautiful creature."
This was a whole new world for us. So we jumped at the chance to document it for Jerry's fans.
Anyone else might have wondered where she was hiding her tinfoil hat, but not Jim and Rene. Something about Jerry's spirit had compelled this stranger to communicate with him on another plane of existence.
Deep down, we wanted to know what Jerry was feeling, and how he was doing. But we learned so much more.
"You know, it's the combination of all three of you that really matters…it's part of your path. And Jerry is a big part of that…"
For details about Jerry's higher purpose, which Lesley revealed during her shamanic journey, read Be More Dog: Learning to Live in the Now. You will also discover the various other lessons we learned from our Chief Fun Officer.