The Tri-stix Chronicles stir up some of our fondest memories from the dawning days of the Tripawds community. Starting in April of 2008, Lalla's mom Sasha created these simple cartoons when Jerry and Lalla developed their long distance love affair.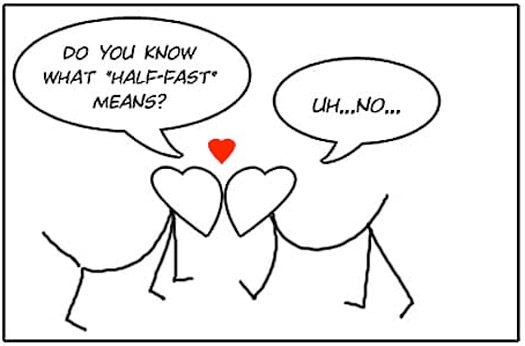 Sasha was an early Tripawds member from Israel, whose dog Lalla lost a rear leg to osteosarcoma. We recall this relationship with a few scenes in Be More Dog: Learning to Live in the Now.
Lalla beat the cancer odds for nearly two years after her amputation. Her accomplishment was more remarkable considering she lived in a place where, "the public is not very well educated in terms of animal health," as Sasha put it. Meanwhile, Lalla and Jerry's love affair blossomed over the Internet as they published fun doggy dialogues, details about long-distance gift exchanges, and an original series of comic strips describing a dog's deeper understanding about the important things in life.
— Be More Dog, Chapter 10: Making Friends Everywhere
With the recent successful landing of another Mars Rover – Perseverance – the timing is perfect to share this second episode of the Tri-stix Chronicles…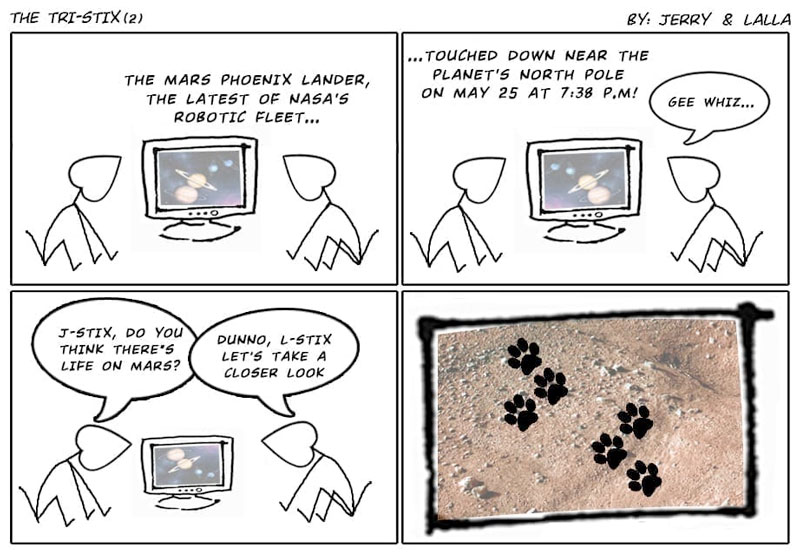 The Tri-stix Chronicles: Dogs in Space?
The second episode of the Tri-stix Chronicles appeared in Jerry's blog on May 29, 2008. It was titled The Tristix Chronicles: Dogs in Space? Jerry and Lalla are watching news of the Mars Phoenix Lander, which had just touched down on the red planet. They contemplat if there is life on Mars. The evidence reveals two sets of Tripawd paw-prints – one missing a front paw, the other missing a rear.
"The Tri-Stix Chronicles" were comical adventures Sasha created about life on three legs with two stick-figure Tripawds. In each episode, Jerry and Lalla shared wise words for pet parents new to the amputation journey.
Now that we've shared the second Tri-stix strip, so it's only fitting to show the first!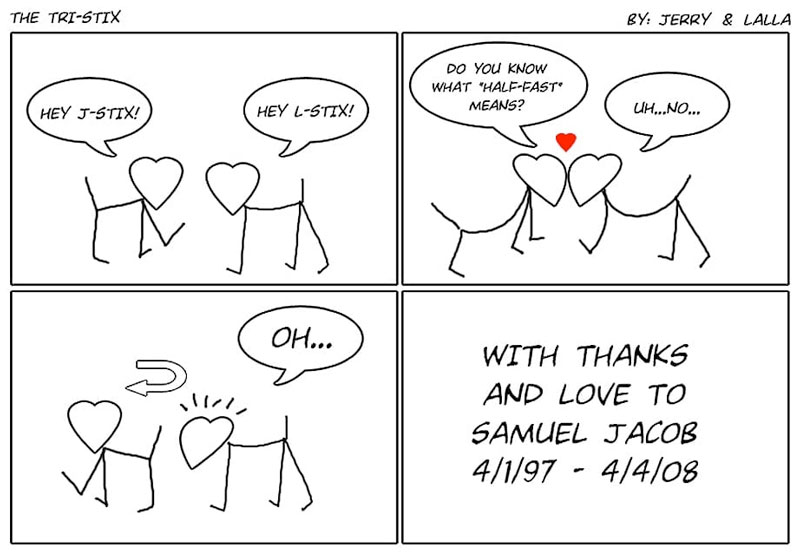 First Tri-Stix Cartoon Honors "Half-Fast" Sammy
What does it mean to be "half-fast"? We may never know. The very first strip of the Tri-stix Chronicles depicts Jerry and Lalla paying tribute to Samuel Jacob. We wrote about three-legged rock star Sammy in one of Jerry's first few blog posts. That was way back in August, 2007! It wasn't long after we sold everything and hit the road in an RV with Jerry.
We found Samuel's tribute, and we've searched the discussion forums. But we're only able to find mention of the half-fast comments. And honestly, we can't remember the specifics. All the links point to Sammy's old Dogster page, which has long since been removed. This is why we encourage anyone with a three legged dog or cat to post in the forums, or start a free blog. We will always ensure that any stories shared with the Tripawds Community will always remain online.
Stay tuned for more episodes of the Tri-Stix Chronicles! What do James Lipton, doggy heaven, and a certain tree have in common? Find out when we share the next final few Tri-stix strips. Want to know more about Jerry & Lalla's relationship, and how we grew Tripawds into our full-time labor of love? Download the Be More Dog e-book, or get the paperback or signed gift edition now.