Our interview on The Workamper Show is the most recent of our podcast appearances. The Workamper News Podcast is hosted by Greg Gerber. The show entertains and educates listeners with the personal stories of people who have followed their dream to travel in their RV. That's us!
In my last two posts here, I shared photos and video from our time workamping with Jerry on an organic farm in Florida – with excerpts of scenes from our book, Be More Dog: Learning to Live in the Now. So, it's only fitting to follow that up with our appearance on The Workamper Show.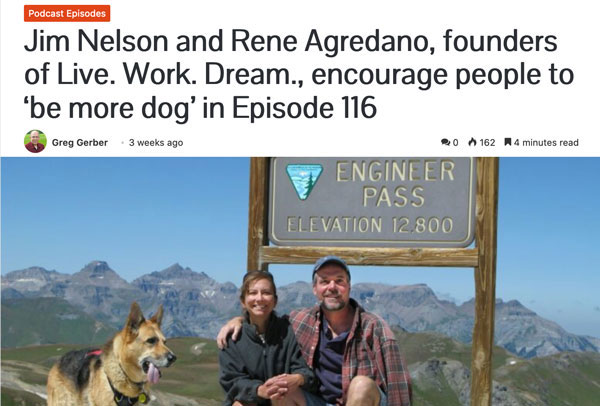 Hear Our Story on The Workamper Show Podcast Episode #116
I first posted in our LiveWorkDream blog about our appearance on The Workamper Show. The post excerpt reads: The #1 workamping podcast interviews Be More Dog authors Jim and Rene about their Live Work Dream lifestyle, RVing tips, and their best workamping jobs.
During our interview, Rene and I had the honor of discussing our book and how workamping has played a major part in our life story over the years for Workamper Show listeners. A few of those stories made it into the pages of Be More Dog.
Today I am going to talk with a couple who jumped in to the RV lifestyle as a favor for their dog who lost a leg to cancer. They wanted to give him an adventure of his lifetime, but the experience changed them to the point they continue traveling in their RV to encourage others to "be more dog."
— The Workamper Show Episode Notes
Listen to The Workamper Show Episode #116
What is Workamping?
We provide complete details about workamping and our many workamper jobs over the years in our LiveWorkDream blog. In short, "workamping" describes a working arrangement for RVers which usually involves a place to camp as compensation for services rendered. Workamping jobs we enjoyed while on the road with Jerry include our time on the farm, working at an animal rescue in North Carolina, and at a New Mexico hot springs resort.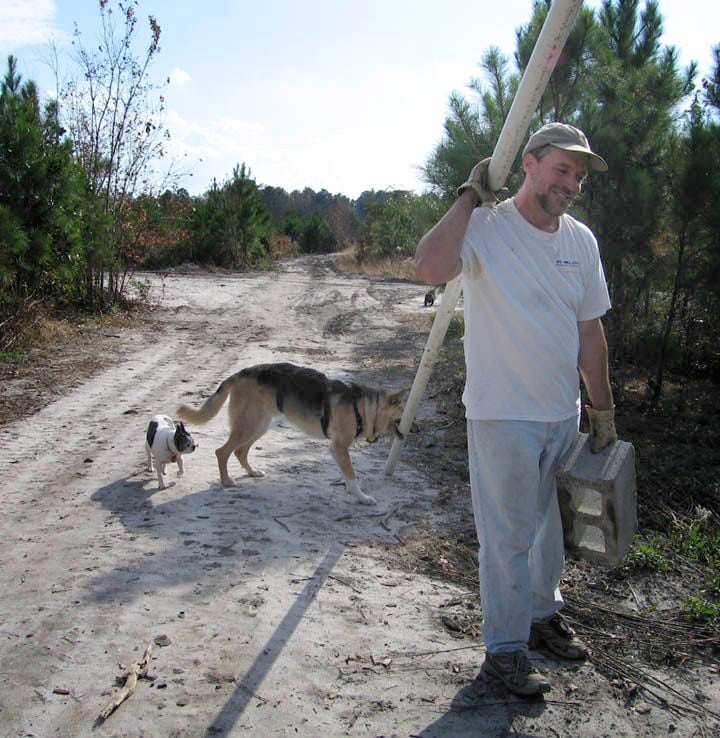 Our favorite workamping job, where we enjoyed our final few months with Jerry, was on a working dude ranch in the Rocky Mountains. We have plenty of photos and excerpts from scenes in the book to share about all of these.
For now, enjoy this episode of The Workamper Show. And, get your copy of Be More Dog to read all about our life on the road with our Chief Fun Officer.