Dog Words Podcast host by Philip Hatterman from Rosie Fund interviewed us all about Tripawds and our various resources for amputee pets and their people. The mission of Rosie Fund is to provide humans with the resources and education they need to give senior and harder-to-adopt dogs a better life. And the Dog Words Podcast explores the world of dog care and companionship.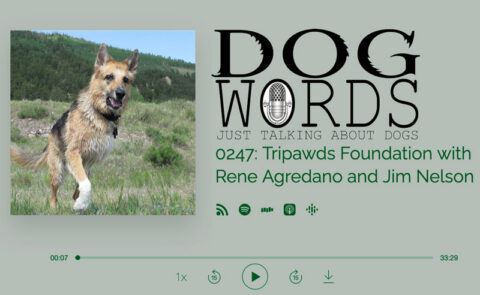 In this interview, we had the pleasure of sharing our story about Jerry. But the conversation focused on what that story inspired. We talk about the Tripawds community, and it's many free resources. And we discuss the various Tripawds Foundation direct assistance programs helping amputee pets and their people everywhere.
…They'll ask the vet, first thing, "How long do I have with my dog?" The dog doesn't care how long, just wants the most of every moment, out of every day. So it's all about quality of life, not quantity.
– Tripawds co-founder, Jim Nelson on Dog Words Podcast ep. 247
Listen to this Dog Words Podcast episode below, or on your favorite podcast platform.
Dog Words Podcast Episode 247
Tripawds Foundation with Rene Agredano and Jim Nelson
Dog Words Podcast: Find all past episodes here.
Phillip asked great questions about pet amputation, recovery, and care. We talk about important questions to ask your vet before surgery. And we discuss some tips for finding the best vet to perform the amputation. Even if you have a regular general practice vet  you've trusted for years, we also discuss the importance of seeking a second opinion – especially when it comes to limb cancer.
…no, you didn't take their leg. You took their pain away, that's what we like to say.
– Tripawds co-founder, Rene Agredano
From the Dog Words Podcast episode page:
Rene Agredano and Jim Nelson tell us how the Tripawds Foundation supports pets faced with losing a limb.
Tripawds online:
Of course, our discussion turned to living in the now. Rene and I stressed the importance of remaining positive during your dog's recovery. Being a strong and balanced pack leader is what dogs need most. It will reassure that this new life on three legs is indeed normal, and everything will be okay.
Don't feed our negative energy to them. Use their positive outlook, they're being in the Now…Dogs are in the now, they're not thinking about what forced them to loose a leg, or "I used to have four legs" – their just movin' on…
– Dog Words Podcast host Philip Hatterman
The Rosie Fund  mottos is, "We save each other." They explain this as meaning, "The more we do for dogs, the more they do for us." This sums up our relationship with Jerry beautifully. We went to extreme lengths to help improve his quality of life after his bone cancer diagnosis. And he taught us many important lessons, most importantly: How to Be More Dog.