Like many pet parents who are eventually presented a bone cancer diagnosis for their dog, we had no idea that Jerry's persistent limp was being caused by a tumor growing in his shoulder. When the surgeon at UC Davis told us Jerry had osteosarcoma, it was the first time we discovered that dogs even get cancer. We were shocked, and upset. Mad at ourselves mostly, for not doing anything about it sooner. And we were upset with our regular vet who didn't know enough to say, "I don't know." He insisted the persistent limp was just Jerry getting up there in age.
Dogs can't understand the complicated words that spill from a veterinarian's mouth, but they excel at reading human expressions. Jerry's humans were overcome with a glassy-eyed, confused look. He knew something was definitely wrong.
— Be More Dog, Chapter 5: The Persistent Limp
Jerry first started limping when we returned from our last long hiking trip together. I'll never forget how he didn't want to get out of the truck when we got home. Then after we finally coaxed him out, he jumped down and it happened. The second he hit the ground, he left out such a painful cry that it hurt me too. From that moment on, his persistent limp only got worse.
"Come on, buddy, we're going inside." Jim thumped the tailgate and gently tugged at the exhausted dog's collar until he finally stepped to the edge. "Come, Jerry, let's go!" Like always, Jerry did what was asked of him and jumped out. Only this time, the moment his paws hit the sidewalk, he let out a loud, ear-splitting, heart-wrenching Yelp!
—Be More Dog, Chapter 4: Life Takes a Turn
We've learned so much over the years of running Tripawds, and know much better now. We'd never allow any dong to jump down from the tailgate of a truck, regardless its number of legs. At the time though, like most first-time dog owners, we trusted our vet.
The old farm vet hastily manipulated Jerry's hips and legs, but this time his only advice was, "Well, he is getting older after all. He just can't do the things he used to. Stop taking him on runs, he's too old for that now."
— Be More Dog, Chapter 5: The Persistent Limp
We weren't having it. At only eight years old, we couldn't believe our Chief Fun Officer was "too old" for anything. Especially considering the hike we had just done.
Eight hundred dollars, months of medications, and nothing but useless information, Jim thought to himself. Rene was thinking the same, but neither questioned the recommendation. They weren't wearing the white coat, after all. Who were they to wonder?
But our veterinarian had the degree after all, with the fancy equipment and all the big words. And it took him insisting that Jerry's persistent limp was due to arthritis and old age for nearly two months before we took any further action. It was actually a kind vet tech who suggested it.
The three humans stood at the back, out of sight from the office window. In a barely audible whisper, she spoke her mind to the confused clients. "You might consider getting another opinion."
We owe everything to that vet tech. Had we not sought another opinion, Jerry's persistent limp would only have gotten even worse.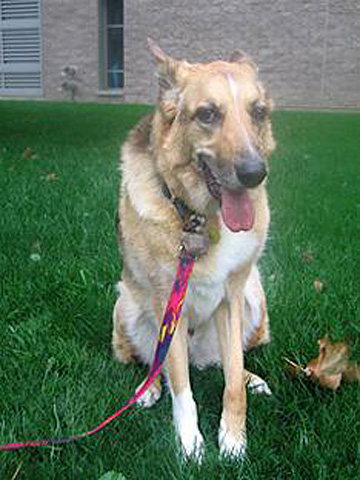 Persistent Limp Leads to Bone Cancer Diagnosis
By the time we finally took Jerry to UC Davis, his persistent limp was obvious and prominent. Just take a look at his last walk on for legs to see for yourself.
Rest assured, the limp wasn't that bad at first. Dogs are so good at hiding their pain. Jerry would appear to be limping on one leg, then be fin the next day. The following week it would seem like he was limping on a different leg. Oftentimes, people join Tripawds after their dogs have a pathological fracture from a missed bone cancer diagnosis. This is why we strongly recommend anyone get a second, or even third opinion, about any serious medical concerns they may have about their pets.
Read all about Jerry's cancer diagnosis, amputation recovery, treatment plan, and the many blessings we discovered because of it all in Be More Dog: Learning to Live in the Now.