I just realized we've never posted here about our Be More Dog keynote talk which inspired the title of our book, Be More Dog: Learning to Live in the Now. SPOILER ALERT: I just gave away how we titled our book after the Be More Dog keynote address Rene and I gave at the 2012 Greyhounds Rock canine cancer conference in Fredericksburg, Virginia. Scroll down to watch the video.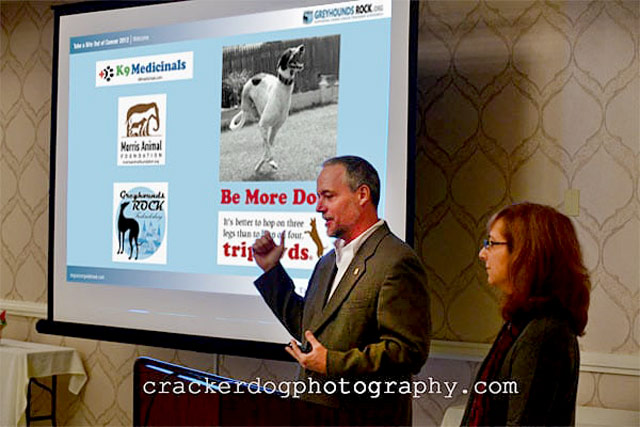 We've been good friends with the founders of Greyhounds Rock Fredericksburg ever since they found Tripawds when their dog TJ lost a a leg to bone cancer. We were honored when they asked us to give a brunch keynote presentation at their 2012 Take A Bite Out of Cancer conference. Honestly, we were also a bit nervous. The Tripawds community was just starting to grow. We had not yet created the Tripawds Foundation. And we weren't attending any veterinary conferences yet. So, this Be More Dog keynote was our first public presentation. We spoke canine cancer, amputation, and how to best cope with the diagnosis and prognosis. My first thought for titling our talk was something I had been telling new members in our forums: Be More Dog.
During this two-day event, we shared amazing stories of Tripawd Heroes who teach us how to make the most out of life and "Be More Dog." In the Tripawds News blog, we shared a summary of our Be More Dog keynote…
Tripawds Shares Your Secret to Coping: Be More Dog
On Sunday morning, we presented our "Be More Dog" keynote address to a packed ballroom. During our 35 minute talk, we shared secrets to being happy even while facing cancer, and we highlighted the stories of numerous Tripawds heroes and how they have inspired all of us to live life to the fullest.
We also played the PBS preview clip from our appearance in the NATURE documentary, "Why We Love Cats and Dogs."
— Tripawds Makes Keynote Debut at Greyhounds Rock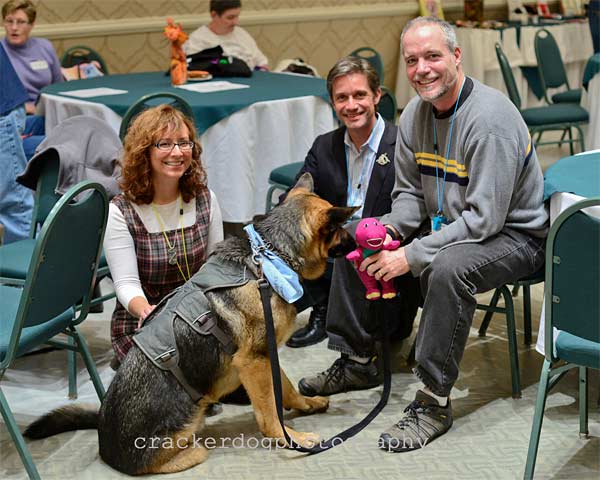 Tripawds Spokesdawg II Wyatt Ray joined us to show what it means to Be More Dog. And we also had the opportunity to meet the renowned ocean explorer and environmental advocate Fabien Cousteau. But did I ever think I'd be doing anything like this? Ha!
If you had asked Jim if he ever thought Tripawds would be what he'd be doing for a living on the day he headed west along that Texas highway, he would have laughed out loud. He'd have laughed even harder if you'd told him he and Rene would be running a nonprofit foundation for amputee pets, or that they would be chosen to give the keynote speech at a canine cancer conference. The title of their talk? Be More Dog.

— Be More Dog, Chapter 16: Following Their Passion
What to Title the Tripawds Memoir?
Keep this in mind: At the time, we had not even even seriously put much work into any book about the adventures we enjoyed with our Chief Fun Officer. We had only toyed around with the idea of writing our book. Once we had a solid first draft, we still had no idea what to call the book. The first book title we considered was, Travels with Jerry.
After writing and reviewing the various lessons Jerry taught us, however, the title became obvious. It made perfect sense to to title the book after the Be More Dog keynote address we presented in 2012. After the conference, we decided to share our message with with everyone who needed to hear it. So we recorded our talk and compiled this video for the Tripawds Youtube Channel.
FYI: If you know anyone having difficulty coping with a limb cancer diagnosis and amputation for their dog, send them thins link to our Be More Dog keynote: https://tri.pet/be-more-dog