WARNING: We already shared the spoiler alert about Wyatt following in Jerry's Pawprints. But he deserves another mention here right now, even though he makes no appearance in Be More Dog: Learning to Live in the Now.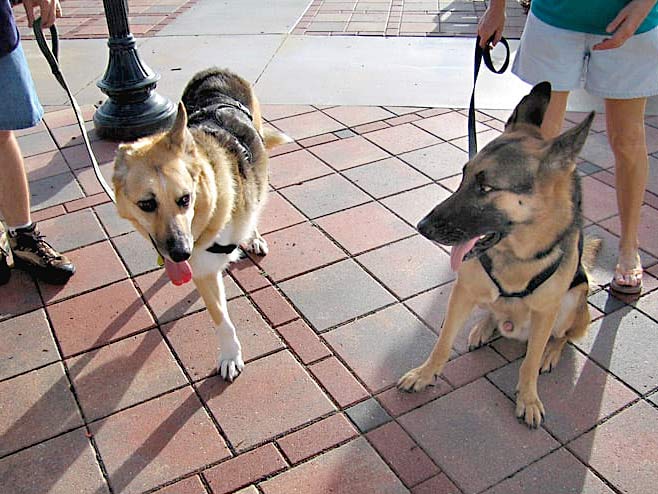 No, that is not Wyatt Ray. It sure looks like him, but he wasn't even born yet. And this week he earned his well-deserved wings.
Rene wrote a short post in Wyatt's own words for his blog, titled Let Go. Let Dog. I shared some photos from our 12+ years on the road with Wyatt as our Co-pilot. And I'm sure we'll have much more to say as our hearts heal once again. So why write about him here, when we make no mention of him in our Be More Dog book?
Big Pawprints to Fill
With our Chief Fun Officer Jerry as the first official Tripawds spokesdog, Wyatt had some pretty big pawprints to follow. And he filled them well. Jerry was the reason we left the default life behind 2007, and never looked back.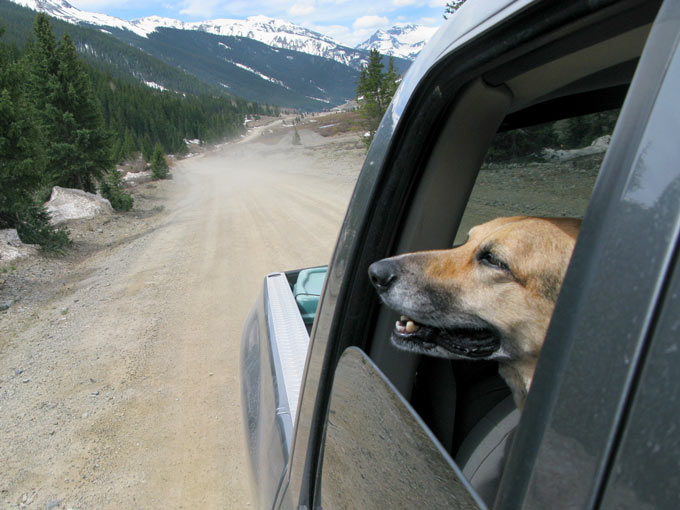 But he was only with us as our guide for those first two years on the road, almost. From the day we left, we believe it was the nomadic lifestyle that helped contribute to Jerry's longevity.
"The next day, Jerry settled into the traveling life like an experienced hobo. As they drove down the highway, he rode the entire way while sitting up on the back seat and leaning his muzzle out the window, his long tongue flapping in the wind. Watching the world go by at 55 miles an hour put a new sparkle in his eyes and added energy to his spirit."
— Be More Dog, Chapter 8: Moving On
On the other paw, Wyatt was our three-legged copilot for the past dozen years. He saw many more miles, and even made it to Alaska with us. Along the way, he followed in Jerry's pawprints more than a few times.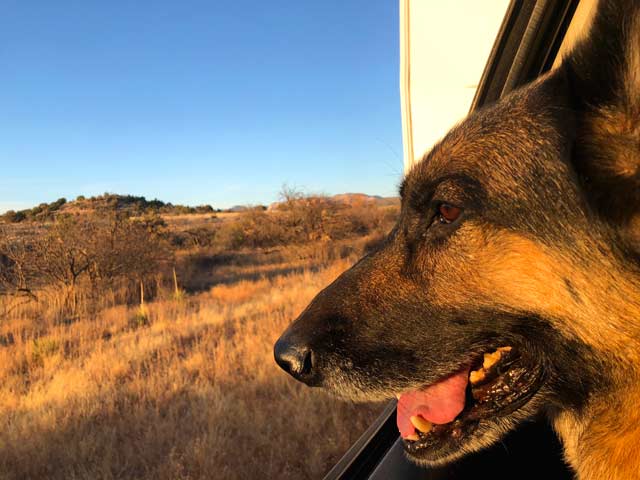 Jerry was there for our first visit to Luckenbach. That scene was one of those babies we had to cut from the book. But it is also when we fell in love with the place, where everybody is somebody.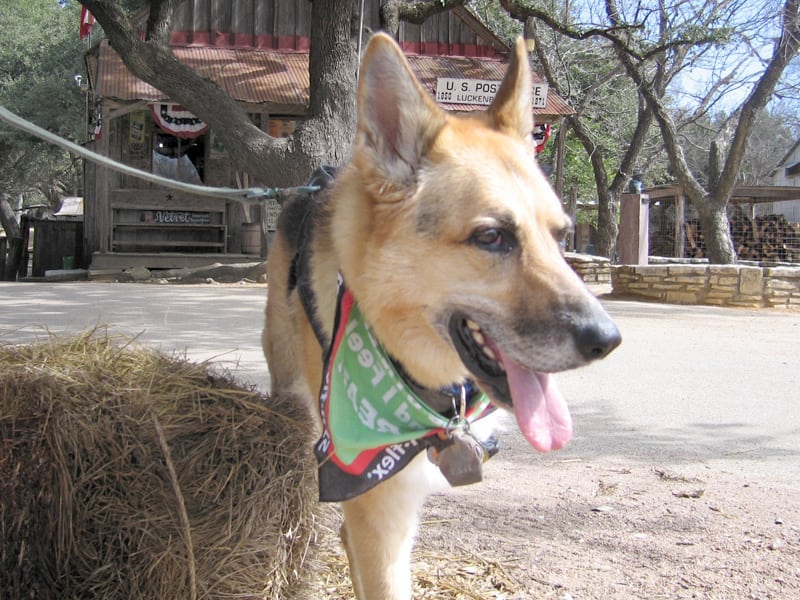 We've returned to the center of the universe many times since then. And Wyatt was with us each time.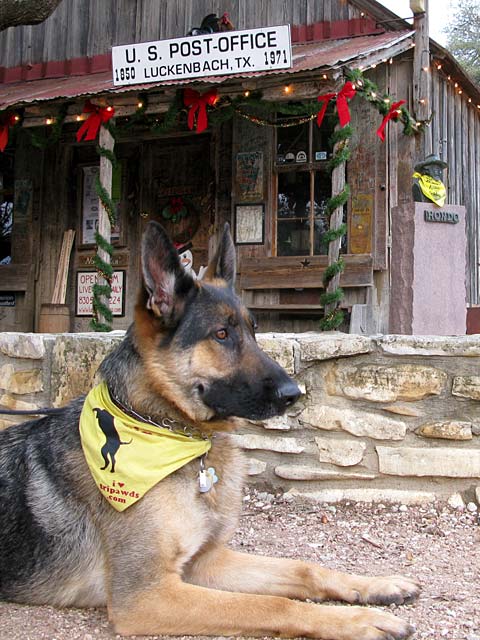 Wyatt also followed in Jerry's pawprints to Pie Town, another one of our favorite places at the center of the universe. And those scenes definitely made it into the book.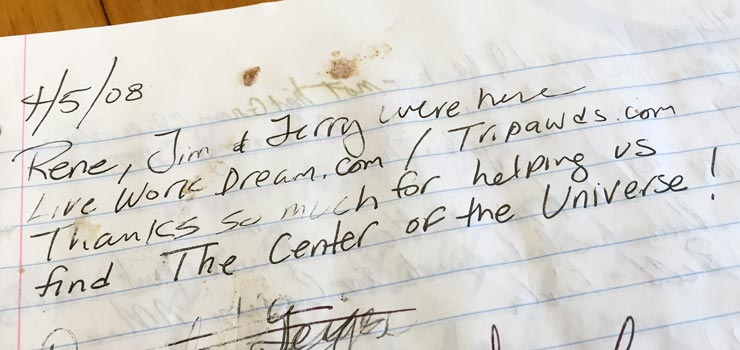 We would return to the Pie-O-Neer and become dear friends with the Pie Lady of Pie Town over the years. And we owe it all to that first visit when she let us in with Jerry though we arrived after hours.
"They never had much of a story to tell before Jerry got sick. But now, they had a good one. People seemed to enjoy hearing about how a dog turned their life upside down for the better, and the Pie Lady of Pie Town was no exception."
— Be More Dog, Chapter 19: The Truth, and Consequences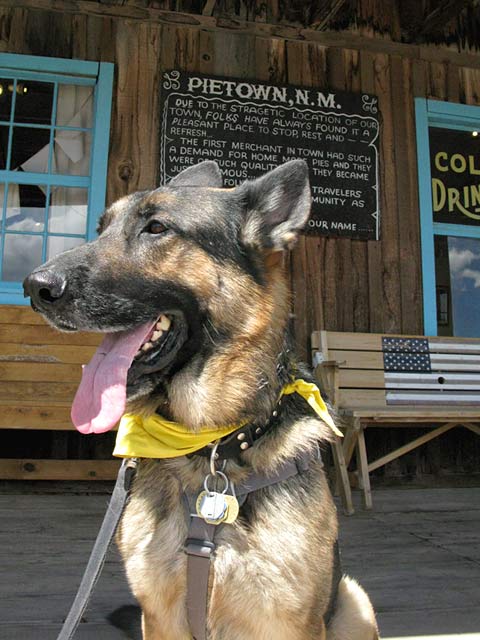 We returned to Vickers Ranch with Wyatt for many summers, where he followed in more of Jerry's pawprints all over the Upper Ranch.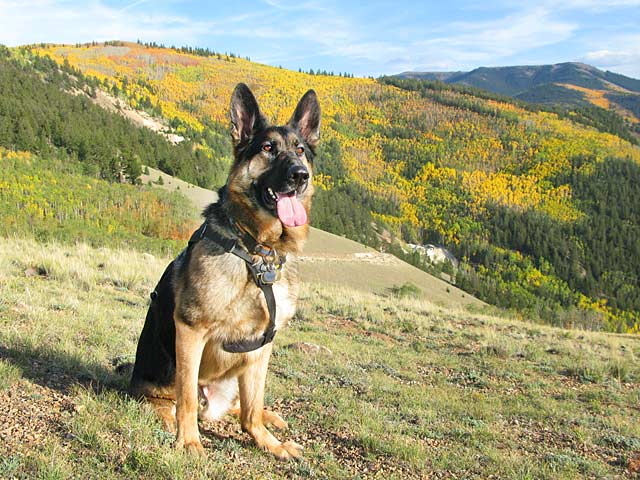 And that is where Jerry enjoyed his last summer. It's also the location we shot our Three Legged Red review video.
"Whoa. They sent us a magnum!" Jim ripped open the carton and held up the big bottle of Three Legged Red. Jerry inspected the packaging, wondering what the big deal was all about. "This is cause for a celebration!"
– Be More Dog, Chapter 21: Ranch Life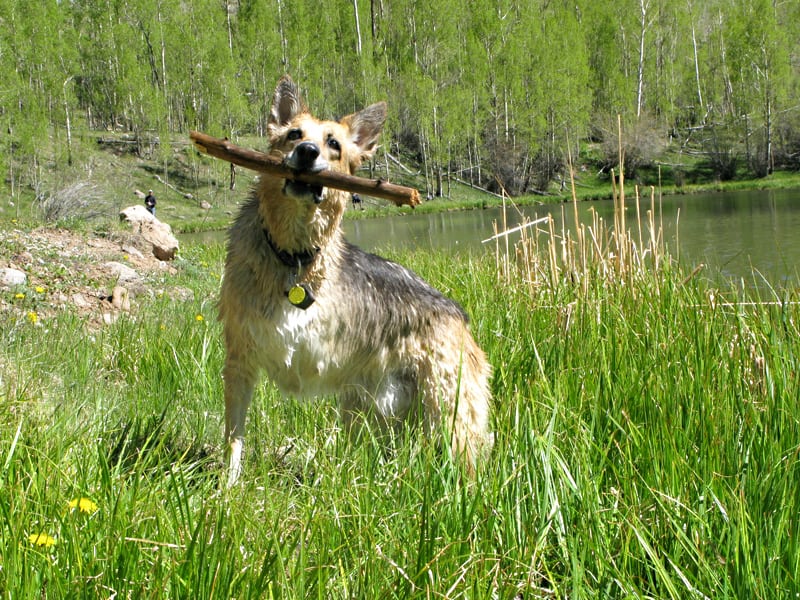 Wyatt also visited Yellowstone, where Jerry spent his final days.
"They had to follow their gut instinct. They could go on and give Jerry the time of his life at Yellowstone. Or they could turn around, check him into an institution, and potentially rob him of any great days he had left. For this wandering pack, it was a natural choice. She said nothing, and Jim kept his hands on the wheel."
— Be More Dog, Chapter 22: On the Road Again
If you've read Be More Dog, you understand Jerry's love/hate relationship with a certain little purple dinosaur. Wyatt's was more of a hate thing.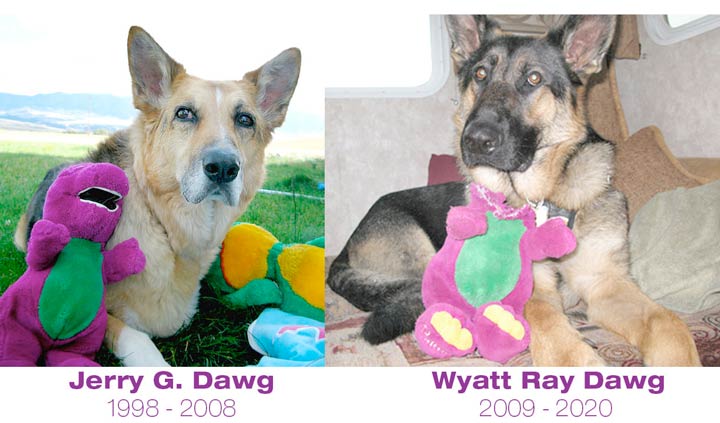 Tripawds Spokedawg II had many different lessons to teach us over the years. Truth be told, early drafts of Be More Dog featured Wyatt Ray as the narrator – with a big surprise reveal of that fact in the end. But he has his own story to tell. And that deserves a book of his own.
Both of our three-legged copilots crossed the Continental Divide and the Mississippi River with us, a number of times. And both dogs left big pawprints on our hearts.


For now, follow up on all Jerry's pawprints from our travels around the country in Be More Dog: Learning to Live in the Now.