Spoiler Alert! This post contains information about the authors not revealed in their book, Be More Dog: Learning to Live in the Now. One question is on the mind of many readers after finishing the story of Chief Fun Officer Jerry and the evolution of the Tripawds. Did Jim and Rene ever get another dog?
Spoiler Alert: Yes.
Be More Dog ends with a recap of the various lessons Jerry taught them on the road to happiness. Early drafts of the book were about twice as long, including many more examples – and the story of what happened after his passing. Jim and Rene had a challenging time editing down their original tome. The finally decided it was best to leave readers with these important lessons, rather than tell them what happened next. The truth is yes, when they finally found Jerry's Acres months after he was gone, a new Tripawds spokesdog found his way into their hearts.
Keen readers may notice various passages throughout the book depict German Shepherd Dogs. Some of these scenes are followed by comments that may insinuate deeper meaning. Specifically, there is the time Jim and Rene worked on a farm in Florida. They sold organic vegetables at the local farmers market. On their last day, they encountered one such dog and snapped a rather prophetic pic…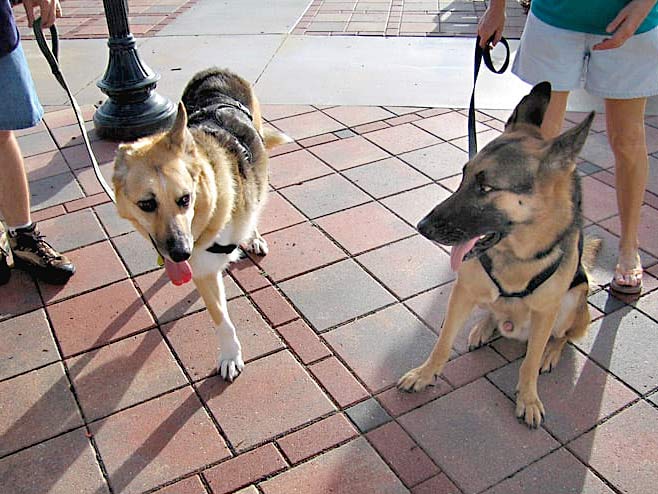 "Every time I see this photo," says Jim, I have to take a second look." Jerry is on the left. The GSD on the right bears an uncanny resemblance to one who would not enter their life for almost two years. In fact, he had not even been born yet.
…after shoppers had depleted their inventory, a beautiful German shepherd nudged through the crowd, anxious to meet Jerry. He was on the darker side of the breed, with stunning angular features and large, pointed ears.

Be More Dog, Chapter 13: Life and Death on the Farm
Meet Wyatt Ray
Tripawds fans and friends of the authors may need to take a second look too. Meet Wyatt Ray Dawg.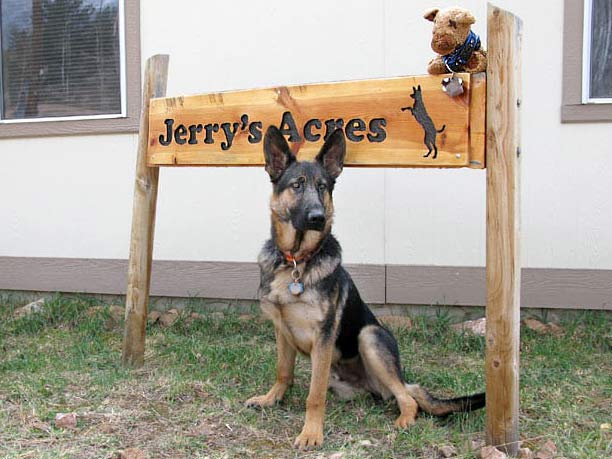 In 2009, nearly a year after they set Jerry free from his broken body, Jim and Rene adopted Wyatt. At eight months old, he had just recovered from a rear leg amputation due to neglect. As of this writing, Wyatt is now 11 years old, and has been representing Tripawds at vet conferences, gatherings, and on the road as their full-time travels continue.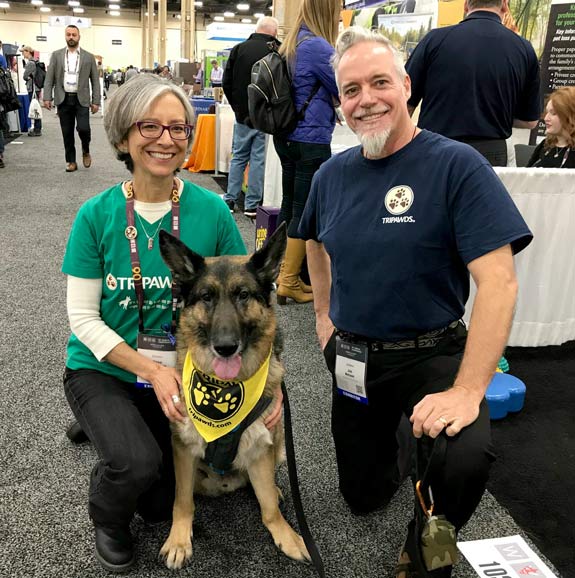 Was that Florida farmers market dog a sign of things to come? Even the mannerisms of the purebred GSD were similat to the dog that would one day rule their world.
The dog walked under the table and with one bark and swift paw punch to Jerry's shoulder, he quickly established his rank.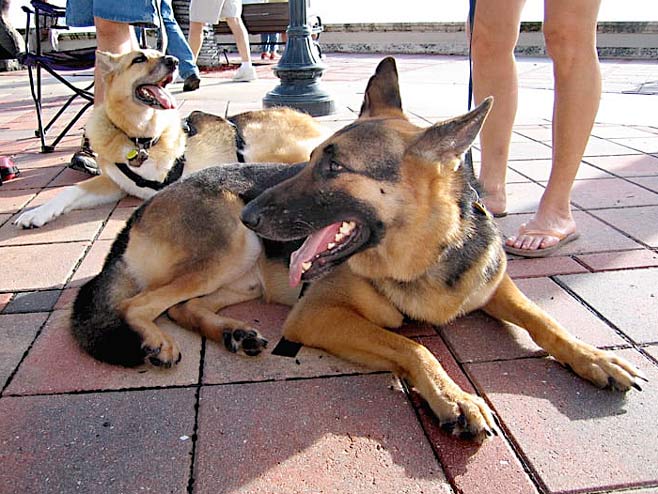 This wasn't the first time in their Be More Dog book when Jim and Rene made comments about a German Shepherd they met during their travels with Jerry.
"See, this is what you're supposed to look like!" Rene called from the other side of the table as she leaned over to caress the shepherd's coarse, black fur. Like most purebred shepherds, he was aloof and wary, but claimed his territory by sitting at her feet.
"Looking back at that day," Jim continues, "the look and behavior of that dog was just eerie. Wyatt would have acted the exact same way."
"Jerry, look up! Over here!" Rene quickly snapped a photo of the two dogs, never knowing that someday the snapshot would ultimately reveal their future as a pack.
One more Be More Dog spoiler alert: This symbolic encounter was not the first time Jim and Rene caught a glimpse of Wyatt Ray, long before his time.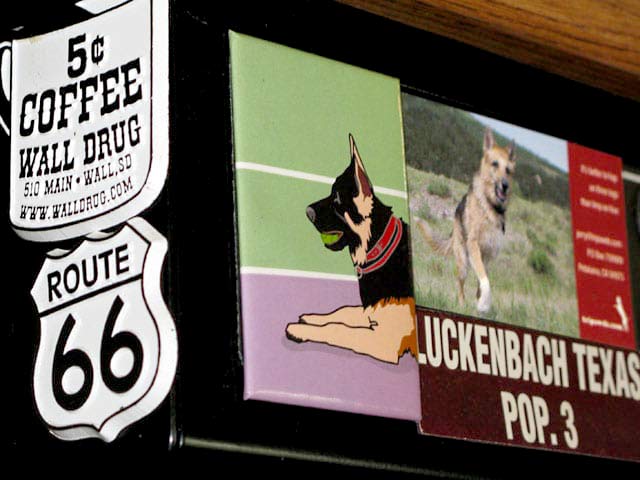 A couple months before arriving at their Florida farm job, they stopped at a local animal rescue. In the gift shop they bought this magnet which is still attached to the range hood in their RV kitchen next to a picture of original Tripawds spokesdog, Jerry G. Dawg.