The entrepreneurial spirit of Be More Dog authors Rene and Jim shines bright on various podcast appearances they have made to share their story. Another Way to Play with Hans Struzyna is the most recent business centric podcast featuring an interview with them discussing their rootless lifestyle.
Another Way to Play: On Passion and Purpose
Hans titled the episode, "Passion and Purpose with Jim Nelson and Rene Agredano." This is appropriate, since finding their purpose and following their passion are messages deeply rooted in their book, Be More Dog: Learning to Live in the Now.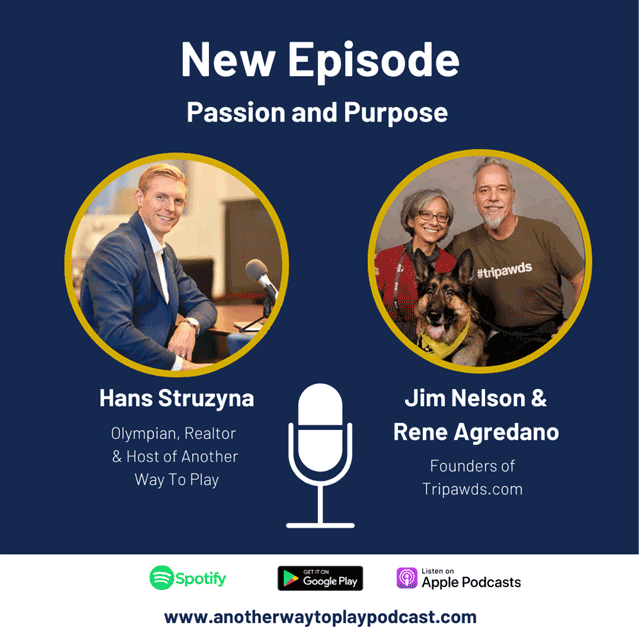 Listen to Another Way to Play with Hans Struzyna interviewing Jim and Rene about the career transition inspired by their dog Jerry, how that led them to find their passion, and much more below.
See the podcast episode page for detailed notes about this in-depth discussion. The chat focused on self-employment, entrepreneurial spirit, and the career transition Jim and Rene made after their Chief Fun Officer Jerry lost a leg to cancer. That transition led them to discover their purpose. Thanks to the many lessons Jerry taught them while roaming the country together as a pack. Basically, he taught them another way to play.
"They make less money now than they once did. But they get a better sense of satisfaction out of their life." – Hans Struzyna
"There's a difference between passion and purpose" – Jim Nelson
Find all recent podcast appearances on the Be More Dog Media page. If you host a podcast and are looking for guests with inspiring entrepreneur stories, dogs, or the nomadic lifestyle, please contact Jim and Rene to invite them on your show.
Read Be More Dog: Learning to Live in the Now for the full story about how they found their purpose and turned their passion into a fulltime labor of love.