Thursday, November 23, 2006 was a Thanksgiving to Remember for us. We'll never forget that day Jerry's surgeon met us at UC Davis Veterinary Medical Teaching Hospital to discharge our Chief Fun Officer – with one less leg.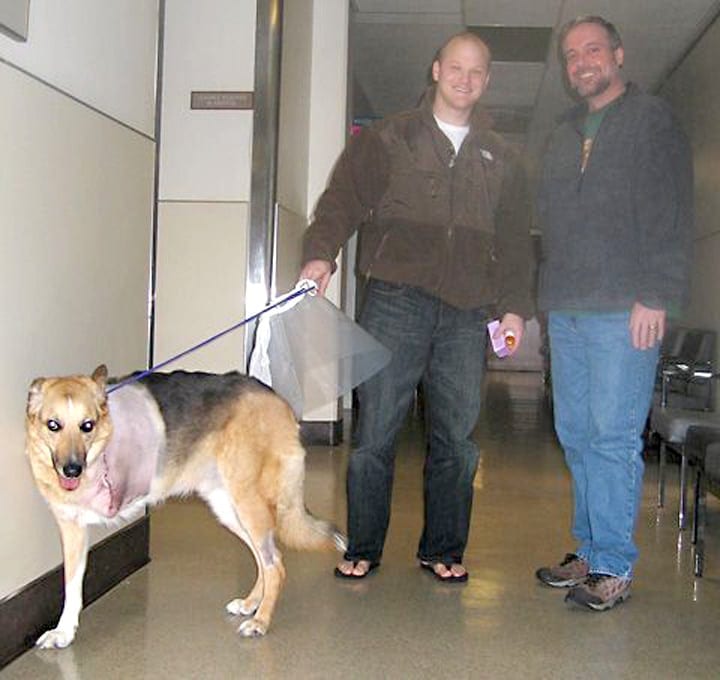 Thinking we'd be rolling him out to the truck on a gurney, we were so surprised and happy to see him come hopping down the hallway to us.
Their handsome dog with rugged German shepherd looks and the heart of a collie now resembled a carved-up turkey. His body was shaved on one side where a gruesome incision snaked around the void where his leg had been. Rene had promised she wouldn't cry, but that didn't last long as she wept…
– Be More Dog, Chapter 1: The Happy Threesome
The first thing we noticed was the big smile on Jerry's face, and the happy look in his eyes. We didn't pay attention to the big scar wrapping around the side of his body.
Wagging his tail wildly with enthusiasm, he seemed to say, "Look at me, not my missing leg. I am still me, and I don't hurt anymore!" His long, fluffy tail swished to and fro and his bright eyes sparkled with the sheer joy of a new day without pain.
That Thanksgiving to remember will always be a bittersweet memory. It was the first day of the rest of our lives. Little did we know at the time how much our life together as a pack would change. We knew life with Jerry on three legs would be different. But we had no idea how much better it would become.
The events put in motion by Jerry's cancer diagnosis, and his amputation on that Thanksgiving to remember, led us down the road we're still roaming today. They inspired us to hit the road in an RV together. And we are still traveling full-time to this day. They led us to create the Tripawds website community. And that has since become the largest online support community for amputee pets and their people.
For that, we are forever thankful.
For more details, photos, and excerpts featuring fateful scenes from that Thanksgiving to remember, see our previous post:
Or, get the full story about all our travels with Jerry in Be More Dog: Learning to Live in the Now.