The Be More Dog authors have always been energetic entrepreneurs. Ever since they left lucrative Silicon Valley careers in 1998, Jim Nelson and Rene Agredano have worked for themselves. When their Chief Fun Officer Jerry lost a leg to cancer in 2006, the couple hit the road in an RV and never looked back. To this day, the continue working from anywhere in the mobile Tripawds HQ.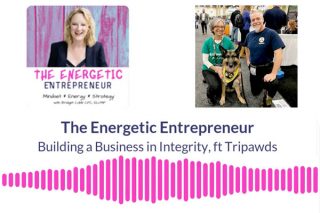 Energetic Entrepreneur Podcast Interview
Jim and Rene
had the honor of being guests on
The Energetic Entrepreneur
podcast with Bridget Cobb. So they shared the backstory about how they came to manage the largest online support community for amputee pets and their people. It all started in a small San Francisco apartment closet.
Listen to episode
From the podcast episode description:
You know when you are doing something and it just doesn't feel right? Now, imagine that is your day job and you are doing it 9 hours a day! Jim Nelson and Rene Agredano not only recognized that feeling but then DID something about it! Listen in to see how they left the fast-paced corporate world to build a business that actually fulfilled them, all inspired by a three-legged dog named Jerry.
About the Energetic Entrepreneur Podcast
Building your own business while you work a 9-5 day job? Bridget Cobb explores the mindset, energy and strategy you need to thrive in your life as both an entrepreneur and employee. Can you do both? Yes, you can.