Rene says Be More Dog Press Coverage is an outdated phrase. The more appropriate term these days is Be More Dog Media, but there I go dating myself. Regardless, our Be More Dog book appeared in two RVing publications recently. In print magazines, remember those?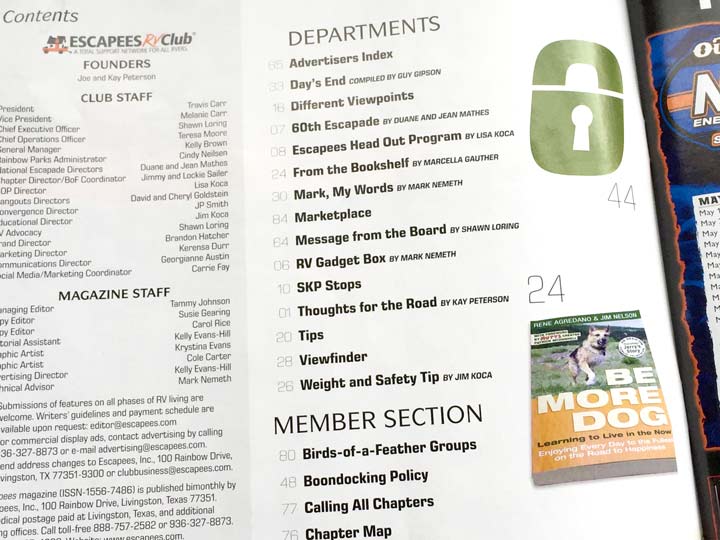 Be More Dog Press – Escapees Magazine Book Review
Escapees magazine is only available to Escapees members, so I'll just share a few words from the review.
This marvelous book is an homage to the many different kinds of love.
Escapees is the largest support community and advocacy organization for full-time RVers like us. We worote about why we became SKPs long ago in our Live Work Dream blog.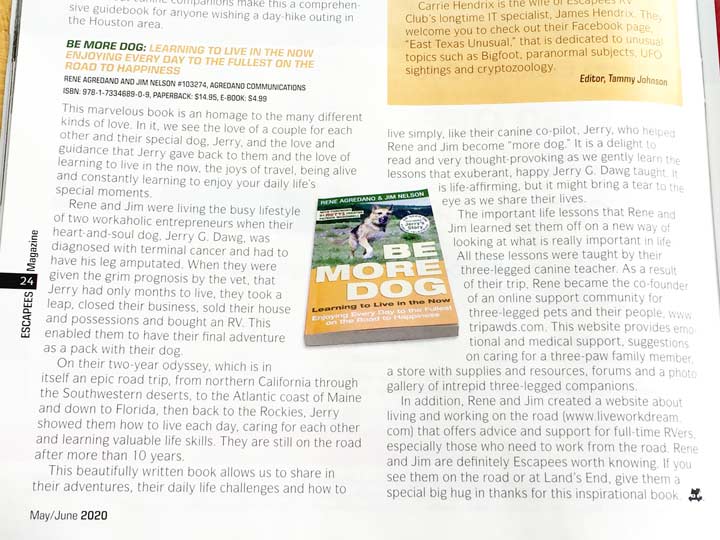 On their two-year odyssey, which is in itself an epic road trip…Jerry showed them how to live each day, caring for each other and learning valuable life skills.
Escapees magazine periodically reviews bookss relevant to RVing and the nomadic lifestyle. Be More Dog was ranked a #1 New Release in Travel With Pets by Amazon. So we were honored to have our book featured, and the pawsitive review warms our hearts.
This beautifully written book allows us to share in their adventures…it is a delight to read and very thought-provoking.
Rootless Living Magazine Features Nomadic Authors
If you missed our Rootless Living podcast interview, check it out to hear details about why we hit the road in 2007 with our CFO Jerry – and how we still travel full-time today with Wyatt Ray. The July/August 2020 issue of Rootless Living magazine features our in-depth profile about how a three-legged dog inspired travel, workamping, and living life to the fullest.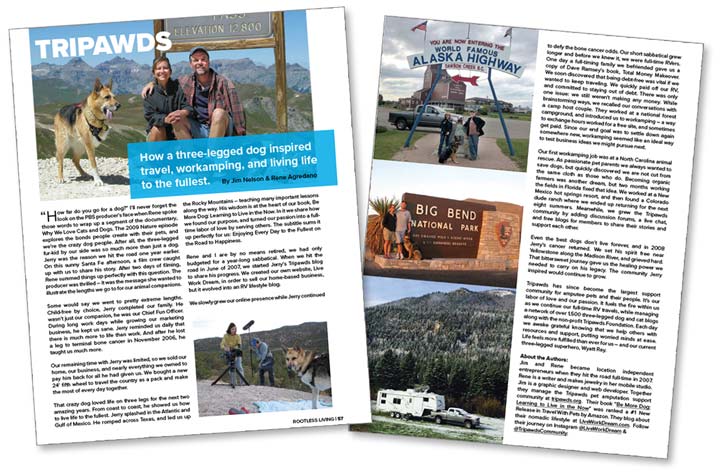 Rootless Living is a publication by RVers for Rvers. So we were honored when they asked us to submit a feature piece to include in Issue #4. The issue has a focus on traveling families. Child-free by choice, we wrote our story from the perspective of a loving family with a fur-kid.
How far do you go for a dog?
…Some would say we went to pretty extreme lengths. Child-free by choice, Jerry completed our family. He wasn't just our companion, he was our Chief Fun Officer.
The article describes our two years on the road with Jerry, and how that bittersweet journey inspired us to create Tripawds – now the largest online support community for amputee pets and their people. Of course, the article includes a good dose of Be More Dog press coverage.
You may also like: