This Dog Cancer Answers podcast episode features Be More Dog authors Rene and Jim. They discuss life on three legs with listeners on the Dog Podcast Network.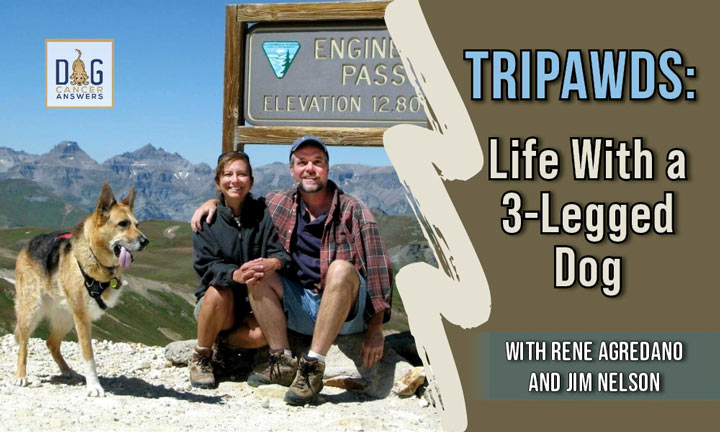 https://dogcanceranswers.com/jerry
Tripawds Founders on Dog Cancer Answers Podcast
Bonus Video Trailer: Dog Cancer Answers podcast highlights from episode featuring Tripawds Founders and Be More Dog authors Rene Agredano and Jim Nelson discussing life on three with Jerry after his amputation due to osteosarcoma.
Listen to extended audio trailer of this podcast episode in the Tripawds Downloads blog.
Listen to the full episode on the Dog Cancer Answers podcast.
Dog Cancer Answers Episode Notes
When their vet recommended amputation for their dog (Chief Fun Officer Jerry), Be More Dog authors Rene and Jim were terrified. Little did they know that this diagnosis would help them do a 180 and start living life to the fullest again.
As it turns out, three legged dogs don't just thrive—they can teach us a lot about this adventure called life. Rene and Jim tell us about their RV lifestyle, writing two books, meeting MUTTS creator Patrick McDonnell, and forming Tripawds, an international community for three-legged dog parents. Friendships, foundations, support groups, and even international parties have grown from what seemed like an unmitigated tragedy. And it's all thanks to Jerry, a three-legged dog who taught his parents how to live in the moment.
"Live in the moment. Rene and Jim have certainly heeded that lesson, and paid it forward. Hopefully, we can all do the same. Especially knowing that there is an amazing community to help support us."
– James Jacobson, Podcast Host: Dog Cancer Answers
This episode is a gold mine for any dog parent living with or facing amputation, as Jim and Renee have created an amazing community and resources. But the life lessons and joy are worth hearing for anybody and everybody.
Get the Be More Dog Book and Fun Gifts
Find Dog Cancer Survival Guide Book and Webinars