Tripawds founders and authors Rene and Jim shared self publishing tips and their Be More Dog story with Darren Palmer on his Self Publish N 30 Days podcast. Darren Palmer is an accomplished author, and operates a successful self-publishing business. He helps authors publish their books faster and empowers them for self-publishing success. Mr Palmer hosts the informative and fun show, Self Publish N 30 Days.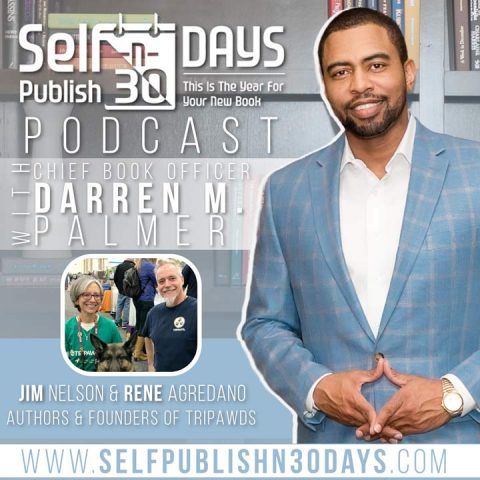 In this podcast episode, Darren dove deep into the story behind the making of Be More Dog: Learning to Live in the Now. In sharing their story, Jim and Rene offered self publishing tips for anyone interested in publishing their own book.
Listen to full episode on Stitcher here:
Special Edition Author Spotlight: Be More Dog
Or, click Play below:
Self Publishing Tips and Book Marketing Challenges
Darren has a passion for helping entrepreneurs. In his business and on the Self Publish N 30 Days podcast, he shares vital steps for authors to grow their business. He provides self publishing tips by inviting guests to share their successes and challenges. Darren asked Jim and Rene to get into the psychology of them taking that step to self publish their book, and build the Tripawds community.
"For those who might feel stuck out there, or feel limited, what made you make that jump? You could have stayed in your comfort zone…but you chose out of the box thinking to move forward…" – Darren Palmer
By thinking out of the box, Darren is referring to the nomadic authors' unconventional lifestyle. The couple shared details about how they sold their business to travel full time in an RV with Jerry after his amputation. And then they explained how they continue to grow their online business and published their books from their mobile Live Work Dream headquarters.
We have always been risk takers…we've always lived life just a little bit differently. When you find yourself in the same ol' same ol' everyday, you gotta push yourself beyond that and step out of your comfort zone. – Rene Agredano
Getting into the nuts and bolts of Jim and Rene self publishing from the road, Darren asked them to share how they did it. Darren was looking for more self publishing tips for his listeners. Specifically he asked Rene about writing and content development. He wanted to know how they were able to maneuver and execute their plan, with everything else they had going on.
You all are on the road, you still gotta eat, there's things you still gotta take care of, so talk about some of the decision making, and executing… – DP
Rene explained that writing Be More Dog took such a long time, because no one was paying them for self publishing. They put the book aside many times over the years while they focused on growing their business.
That was probably the hardest thing we ever did as a couple…the way we did it, we decided we're gonna treat this like a job, and we squeezed it into our schedule. – RA
Be More Dog took years to self publish. But Rene and Jim wrote and refined the majority of the story over the course of a few months. During that time, they scheduled a specific time each day when the two of them would write without interruption. Darren summarized their focus and determination succinctly for his listeners.
Wherever you have clarity of vision, you will have acceleration toward the known goal. – DP
Darren encouraged Jim to share more self publishing tips with aspiring writers and authors. He considered their lifestyle and the current state of affairs. And he asked how their marketing efforts for the book might be a different from the normal sales and marketing the used to do.
Marketing a book is as hard if not harder than writing and publishing…one of the tips I have these days, is podcasts, podcasts, podcasts…There is a podcast for everything, so whatever your book is about, you gotta craft the right pitch letter…And do you have a Media Kit? That's tip number two…  – Jim Nelson
Download the Be More Dog Media Sheet for one example of an author's media kit. Jim and Rene also have a Tripawds Media Kit detailing the work they do to help amputee pets and their people everywhere.
Listen to the full episode above for more self publishing tips from podcast host Darren Palmer with Be More Dog authors Jim and Rene. Browse all their podcast appearances for more interviews about their travels with Jerry, the nomadic lifestyle, and their entrepreneurial spirit.