Dr. Alex Avery discusses life on three legs with Tripawds Founders Rene and Jim on this episode of his Call the Vet podcast. This interview with the Be More Dog authors focuses a bit more on amputation recovery and care. But it does touch on the the Tripawds backstory and their travels with their Chief Fun Officer Jerry.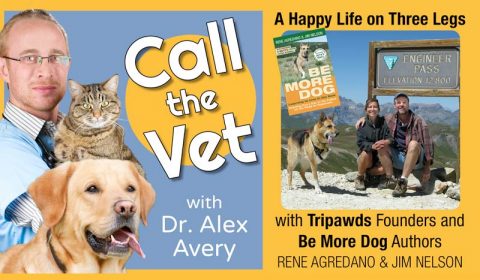 Listen to the full episode here:
Or, hit play below:
Dr Alex Avery Says:
Jim and Rene, the founders of tripawds.com, are the 2 people you want in your corner if you're struggling with the thought of your dog or cat living a quality of life on 3 legs, or looking for tips to optimize their happiness following surgery.

They know first hand the challenges you are facing, having experienced this exact scenario with their own dog Jerry.

Little did they know at the time how much Jerry's cancer diagnosis would change their lives and positively impact countless Tripawds across the globe.
For all episode notes and full transcript, check out Call The Vet episode #74: A Happy Life on Three Legs
That happy life on three legs is what led Jim and Rene to create the Tripawds community. Their travels with Jerry inspired them to write Be More Dog: Learning to Live in the Now, which tells the entire story from the beginning.
Dr. Alex Avery is a practicing veterinarian in New Zealand, and the creator of ourpetshealth.com. Rene and Jim first interviewed Dr. Alex for the Tripawd Talk Radio podcast episode, Best Pet Health Tips for Tripawds from Dr. Alex Avery.