Dogster Obsessions is a regular feature of Dogster magazine. In this short Lifestlye segment, the team at Dogster shares three things: Good Dogs, Good People, Good Things. Therefore, it makes perfect sense that they shared a snippet about Be More Dog: Learning to Live in the Now.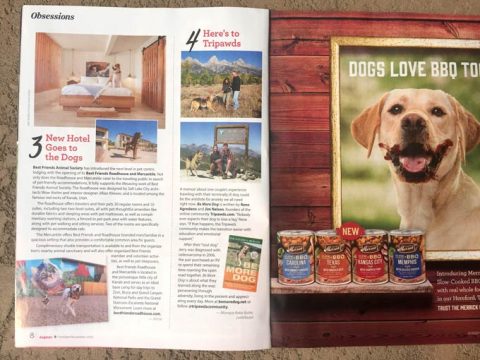 The October/November 2020 issue featured the Dogster Obsessions blurb about the Be More Dog book, by Tripawds founders Rene and Jim.
Dogster Obsessions about Tripawds or Tripwards?
The online edition of the issue spells "Tripawds" wrong in the Dogster Obsessions segment titled Here's to Tripwards. 🙂

"Tripward" would be totally appropriate, if it were a word. Considering the book is about the trip of a lifetime, for one three legged dog and his people. Three paws up to Monique and Dogster for quickly fixing the typo! 🙂
A memoir about one couple's experience traveling with their terminally ill dog could be the antidote for anxiety we all need right now.
– Dogster Obsessions
Be More Dog is an anxiety antidote indeed. It shares the lessons of Jerry G. Dawg, the first Tripawds Chief Fun Officer. His most important lesson is one we can all follow to help reduce stress and anxiety. And that is to Live in the Now.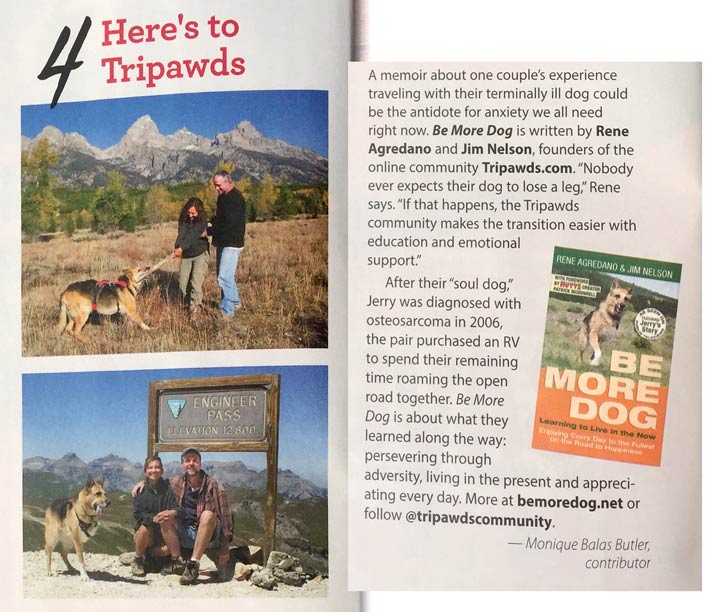 Tripawds member Stacy was the first to share news of this Dogster Obsessions edition here in the forums. She said, "What a treat to see some Tripawds friends in the latest issue of Dogster Magazine!"
What a treat indeed. Jim and Rene have been working hard to spread the word about their new book. They shared their Be More Dog Media Kit with contributing writer Monique Balas Butler. And they were excited to see what she had to say in the Dogster Obsessions segment.
Monique also wrote a more in-depth article about Tripawds for Dogster in 2017. She titled the Health Care piece How to Care for a Three-Legged Dog. For that feature length story, Monique interviewed Tripawds co-founder and Be More Dog co-author Rene Agredano. Unlike the Dogster Obsessions snippet, this article includes helpful tips about how to make life for a tripod dog as happy and healthy as possible.