There is deep significance of Kokopelli appearing in our book Be More Dog: Learning to Live in the Now. At least it has deep meaning to me. At some point I may share excerpts of the intimate experience I describe in chapter 18 that led up to the first reference. For now, I'll share the first time that merry prankster showed up during our travels with Jerry.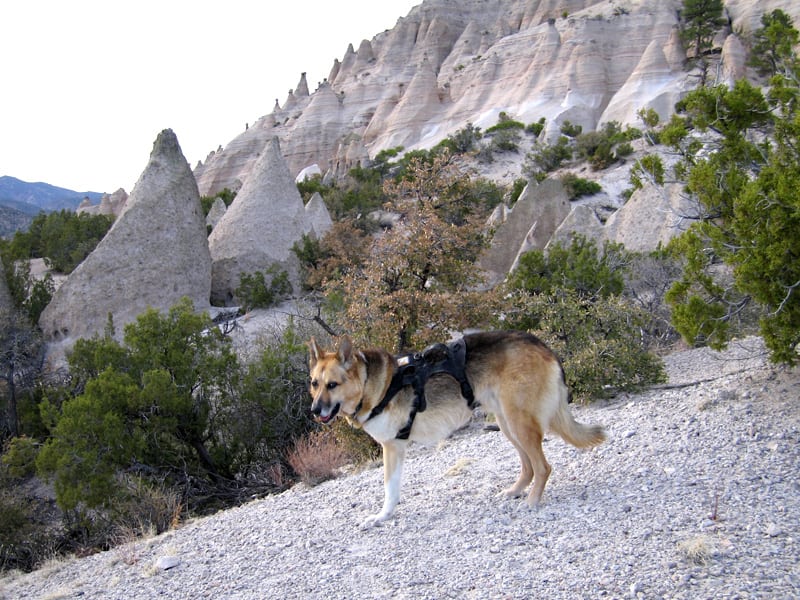 We were in New Mexico at the time, staying at Cochiti campground near Santa Fe. We were there for Jerry's oncology visit, after discovering his metastasis. Oh, and there was that filming for Why We Love Cats and Dogs over those few stressful days. We shot one of the scenes at a sacred place called Tent Rocks, near our campsite.
On his way back to the trailer, he stopped to admire a large flowering cactus growing out of the rocky ground when a shiny glimmer caught his eye. A perfectly intact pint glass lay near the spiny plant.
– Be More Dog, Chapter 18: Living in the Now
What is the Significance of Kokpelli?
According to Hopi lore, Kokopelli is a fertility deity, usually depicted as a humpbacked flute player. The significance of Kokopelli in our book is less about legends of childbirth and agriculture. Rather, his mysterious appearance on our pages relates more to him being a trickster god of Hopi legends.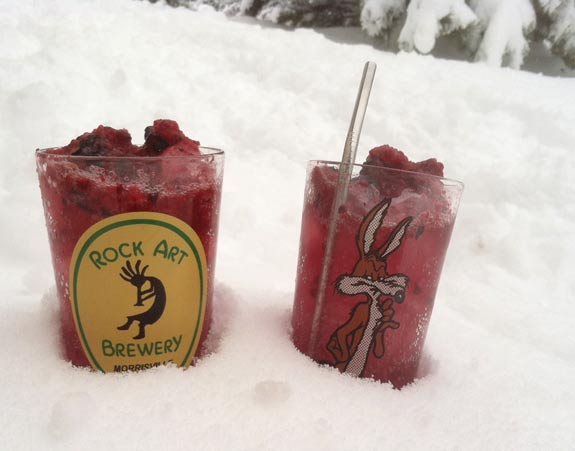 I was in no mood to take any pictures of that glass when I found it that day. I simply appreciated it, and was grateful for finding such a treasure.
He bent down, turned it over, and smiled at the dancing silhouette of Kokopelli printed on the glass. Underneath it were the words "Rock Art Brewery, Morrisville, Vermont."
To this day, I still wonder how that glass got there. I'm a firm believer that there are no coincidences. Yet I'm still bewildered by the significance of Kokopelli traveling safely all the way across the country from Rock Art Brewery to wind up in the rocks under a cactus. Especially considering we had nearly crossed paths previously on our trip. It immediately brang up questions which I still ask to this day.
Was this prankster spirit playing with Jim now? How did a glass make it all the way from northern Vermont to the New Mexico desert? And how did he and Rene, for that matter? Why would a New England brewery have a logo depicting Kokopelli? Most importantly, he wondered, why didn't it break when it fell on the ground?
Sometimes I still wonder how we got where we are today. Ever since Jerry helped us find our purpose, I have a better understanding of our place on this planet. But boondocking in the desert still makes me smile in disbelief sometimes as I reflect upon everywhere we've been.
None of it made any sense, until he recalled something even crazier.

A few months earlier, they had driven within fifteen minutes of that same brewery when they visited the Ben and Jerry's factory in Waterbury, Vermont. Somehow, that glass found its way across the country to this remote campground in the New Mexico mountains. Prank-loving Kokopelli appeared just when Jim needed him most. Clutching the glass, he understood the mysterious gift. In due time, the puzzle pieces of their crazy life would all fall into place.
Kokopelli Appears Again
Years later we returned to Cochiti campground, with Wyatt. But after the PBS crew left us in Santa Fe we were off to another workamping job. Remind me to share some photos and Be More Dog book excerpts from our time with Jerry at Riverbend Hot Springs.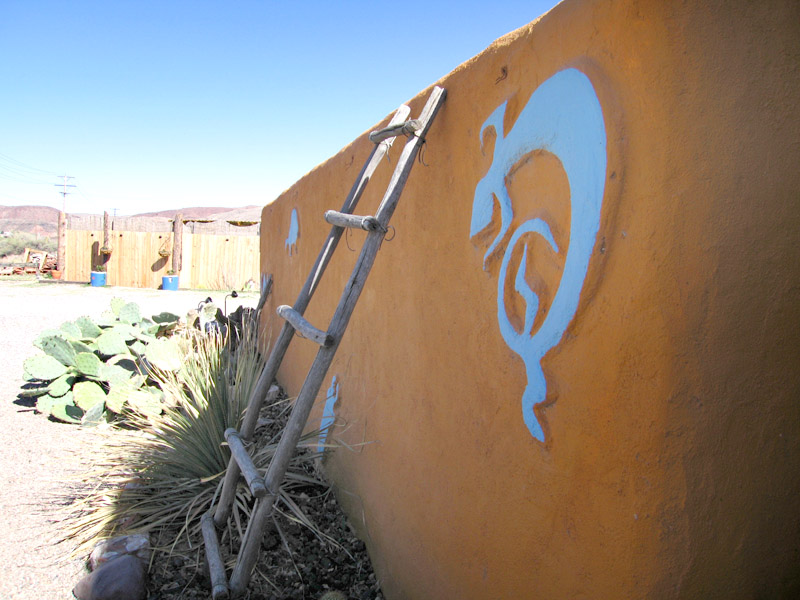 Riverbend ignited a spiritual fire within Jim. Not in a religious sort of way, but the calm, serene atmosphere and soothing waters helped him get more in tune with the life lessons Jerry was teaching them.
– Be More Dog, Chapter 19: The Truth, and Consequences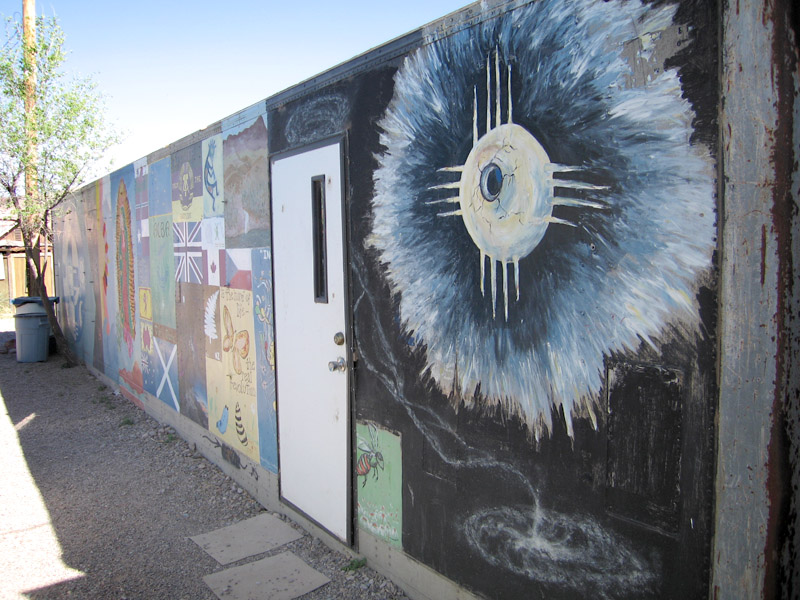 I didn't hesitate to overlook the significance of Kokopelli appearing again.
Each day, Jim smiled as he walked past the courtyard's colorful murals and artwork depicting the earth goddess Gaia, the cosmos, and of course that prankster Kokopelli.
A Lasting Impression
The true significance of Kokopelli for me is the lasting impressions he's made on me throughout my life. Many moons ago, a good friend and I gave a 3′ tall iron Kokopelli sculpture to our mutual high school friend Randy as a wedding gift. I don't get to visit that often, but I get to see that Kokopelli every time I do.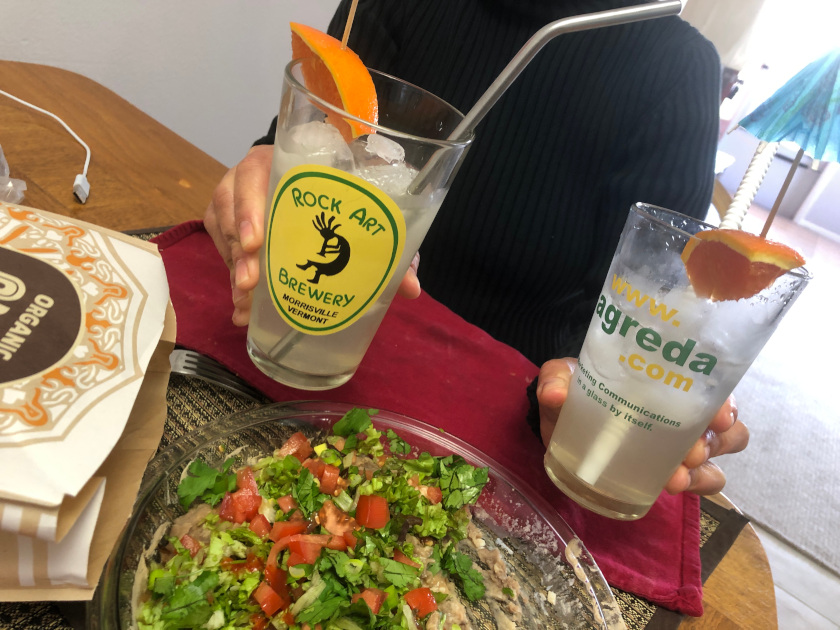 And as for that glass? It is another significant impression of Kokopelli sure to last…
Get the full story: