I recently came across photos of our three-legged farm dog Jerry from our workamping job at White Rabbit Acres in late 2007. This brought back fond memories from our visit on the Vero Beach organic farm. It also reminded me of this video we shot at our RV site, while working the farmers market where we took that prophetic photo.
Working on the farm that winter, our Chief Fun Officer quickly settled into his role as a three legged farm dog.
Over those couple of months, they had fun learning the ins and outs of organic farming. Their new morning and evening routines didn't feel like "real" work, especially when it came to tending to the chickens. Jerry accompanied them to help out, since the coop was just the right distance for the two daily walks his body could still handle.
— Be More Dog, Chapter 15: Life and Death on the Farm
We were very cautious about ensuring Jerry didn't overdo it, with so much room to run and play. But I also remember how he hated riding in the golf cart we were provided to get around the large property. Our three legged farm dog preferred to hop along, so we took our time, and lots of breaks.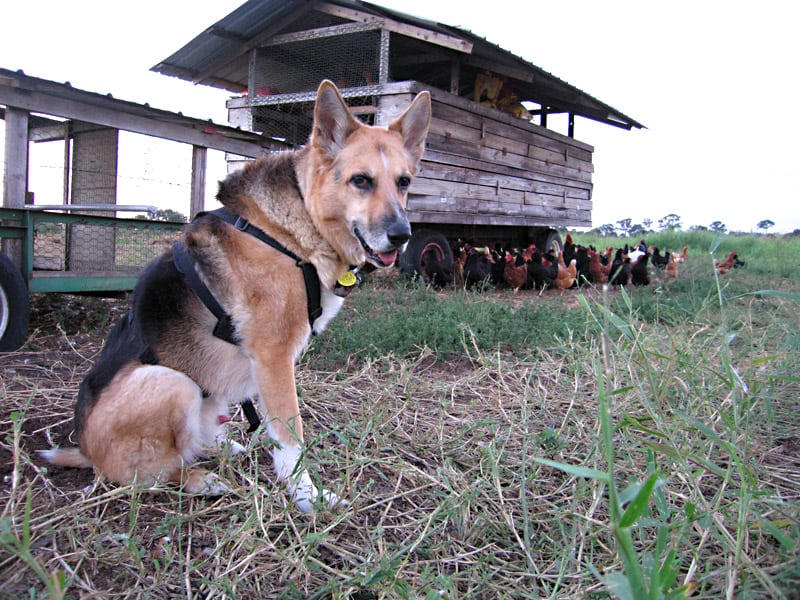 Jerry was always excited to go tend the chickens with us.
The shepherd lived for tending to that flock, and although he was a loving soul, he couldn't resist the temptation of catching a squawking hen. Jim didn't believe the gentle dog could actually capture a running chicken, but Jerry apparently had other ideas that Rene shared in a blog post* during their first weeks on the farm.
— Be More Dog
*Tripawds Blog, December 2007: Bawk! Bawk! I Bark for Chickens.
More Stories about Our Three Legged Farm Dog
Stay tuned for more details, photos, and another surprising video featuring our three legged farm dog Jerry.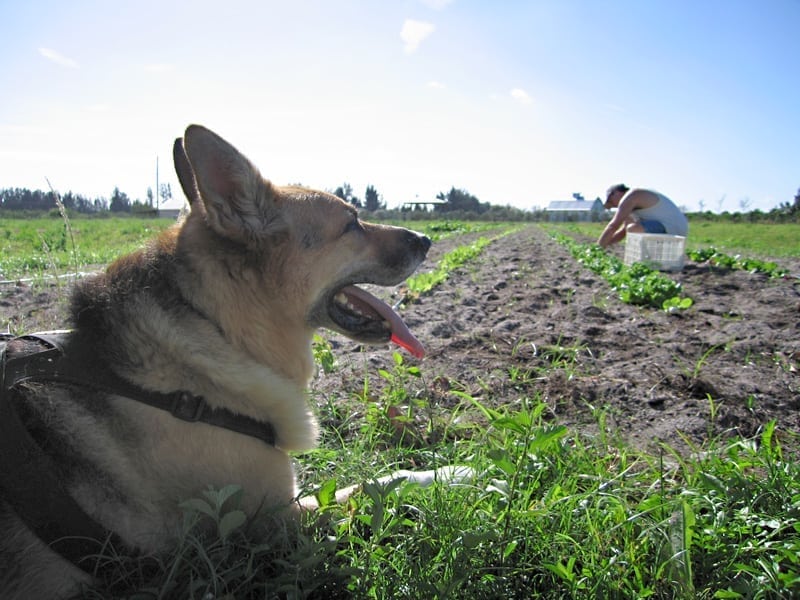 Spoiler Alert: There was much more to our stay at White Rabbit, than tending to chickens and working the fields.
Can't wait? Get your copy of Be More Dog: Learning to Live in the Now to read all the gory details!