The Creative Nomad Podcast host Jeff Perdue Adkins is on a mission to help creatives and coaches live a life of freedom, authenticity, creativity, and profit. In our interview for Episode #64, we had the opportunity to share with Jeff's listeners how we live an authentic life of freedom. We talk about how we are still digital nomads after 15+ years on the road, thanks to the multiple revenue streams we've developed to support our passion and pursue our purpose.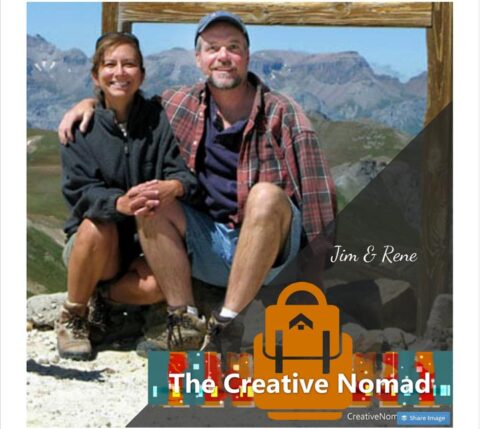 From The Creative Nomad Host
Why I loved this interview: It is always great to talk to other people who have taken their passion and creating their life around it. Not to mention fellow nomads!
From The Creative Nomad Podcast Episode Description:
Since 2007, Jim and Rene have been loving the nomadic life, full-time RVing and working full-time wherever they go! They tell their story about why they hit the road in their book, Be More Dog: Learning to Live in the Now.
Who are you guys at your core?
— Jeff Perdue Adkins
Jeff kicked off the show by asking about who Rene and I really are, at our core. Considering we are both creatives – and nomads –  we were perfect for The Creative Nomad Podcast.
The Sparketype calls me a Maker and a Scientist…I'm a very creative person, and I like to make things work…down deep I'm all about the freedom. I'm a free spirit and want to fix things to make sure they work, to help me live the best life I can.   And help others do the same
– Jim
I was referring to the Sparked work of Jonathan Fields in my answer. Rene also considers herself a maker and creative person, adding, "I love to help people with their pets."
We went on to share our story, talking about our Chief Fun Officer Jerry and how he taught us to live in the Now. Jeff then asked what our biggest take-away was from all that.
…to stop living with one foot in the past, and one in the future.
– Rene
Jeff went deeper by asking specifically about the experience of writing our book – which took us years to complete.
…if you have the patience to let it blossom into the project that it needs to be, you'll find a way to get through it.
For more information, listen to the complete episode of The Creative Nomad Podcast and get the whole story in Be More Dog: Learning to Live in the Now.