The UK-based DogCast Radio podcast was the next stop on the Be More Dog virtual media tour. On this episode (#216), Rene and Jim had speak with DogCast host Julie Hill about the difficult decisions they faced when their dog Jerry lost a leg to bone cancer. And as a result, how they formed the Tripawds community and the nonprofit Tripawds Foundation.
Julie learns how the couple sold everything to travel full-time in an RV after Jerry's amputation. And of course, they discuss their new book Be More Dog: Learning to live in the Now, which tells the full story, from the beginning.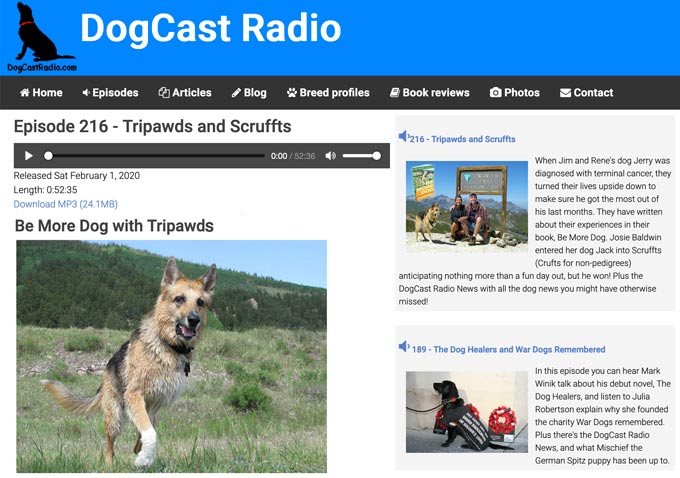 Be More Dog Authors Rene and Jim on DogCast Radio
From DogCast Radio: When Jim and Rene's dog Jerry was diagnosed with terminal cancer, they turned their lives upside down to make sure he got the most out of his last months. They have written about their experiences in their book, Be More Dog.
Also on this episode: Josie Baldwin entered her dog Jack into Scruffts (Crufts for non-pedigrees) anticipating nothing more than a fun day out, but he won!
DogCast Radio is a podcast all about dogs. With more than 215 episodes since 2005, the show has covered many dog related subjects.