Another recent appearance on the Be More Dog virtual media tour, includes this E.R. VET interview with author Jim Nelson. On the ER Vet podcast, Dr. Justine Lee, DVM, DACVECC, DABT discusses all things emergency related. Dr. Lee is an emergency critical care veterinary specialist and toxicologist.
As numerous Tripawds members can tell you, many dog and cat limb amputations are the result of an emergency. And, Be More Dog: Learning to Live in the Now was ranked a #1 New Release in the Veterinary Surgery category on Amazon. So, Be More Dog co-author Jim Nelson was a perfect fit for the show.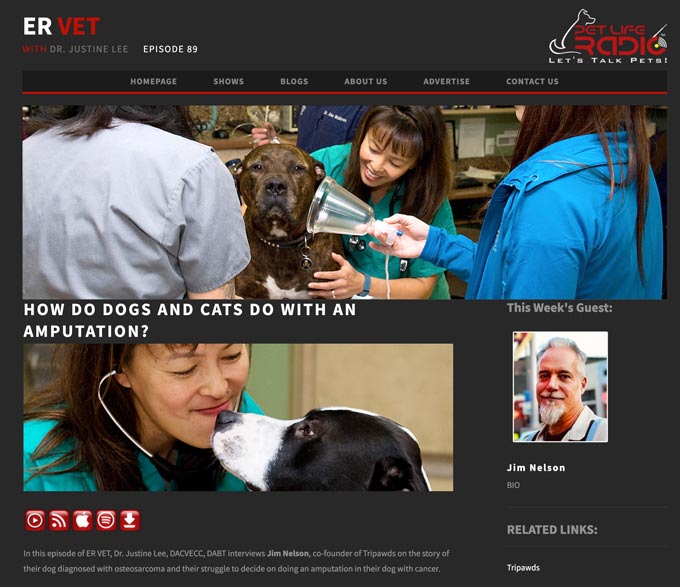 ER Vet Podcast Appearance
In ER Vet Episode #89, Dr. Justine Lee, DACVECC, DABT interviews Jim Nelson, co-founder of Tripawds on the story of their dog diagnosed with osteosarcoma and their struggle to decide on doing an amputation in their dog with cancer.
GUEST BIO: Tripawds is the best help center for your three legged dog or cat. This is a user-supported community for sharing your story and learning about amputation and bone cancer care for pets.
Dr. Lee is a former contributor/blogger to Prevention magazine, PetMD, Pet Health Network, and Voyce. Also featured on NBC Weekend Today, Rachael Ray, NPR, and various other TV and radio engagements, Dr. Lee is a criticalist at Animal Emergency & Referral Center, a specialty referral hospital in the Twin Cities, MN.
ER Vet podcast image courtesy of the Pet Life Radio network.