Jerry Christmas to All! That was the title of our Tripawds holiday blog post 13 years ago. That was two days after the final Christmas with our Chief Fun Officer Jerry. It was his second Christmas on three legs, and our first since hitting the road together six months earlier. Jerry was still happy and healthy, but deep down we knew it was also likely his last.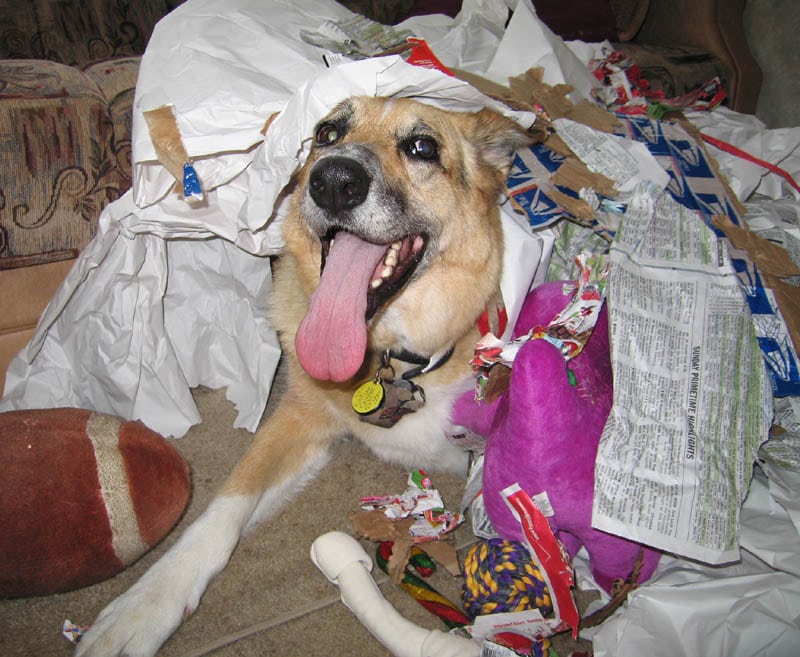 We were staying at one of our first workamping jobs, on an organic farm in Florida. I was feeling nostalgic for some winter weather, but enjoying the time we were having with Jerry as he watched over the chickens and cows on the farm.
Jerry still appeared healthy, with no signs of cancer progressing inside him. Each time they spied on their beautiful dog so alive and happy, Jim and Rene struggled with the daily task of balancing optimism and reality. Christmas was coming, and they were joyful for having another with Jerry, but deep down they knew it could be his last.
— Be More Dog, Chapter 15: Life and Death on the Farm
Rene and I were both thrilled that our CFO was still showing no signs of the cancer we knew was growing within him. We were still learning exactly what it meant to Be More Dog. And we were determined to have a very Jerry Christmas!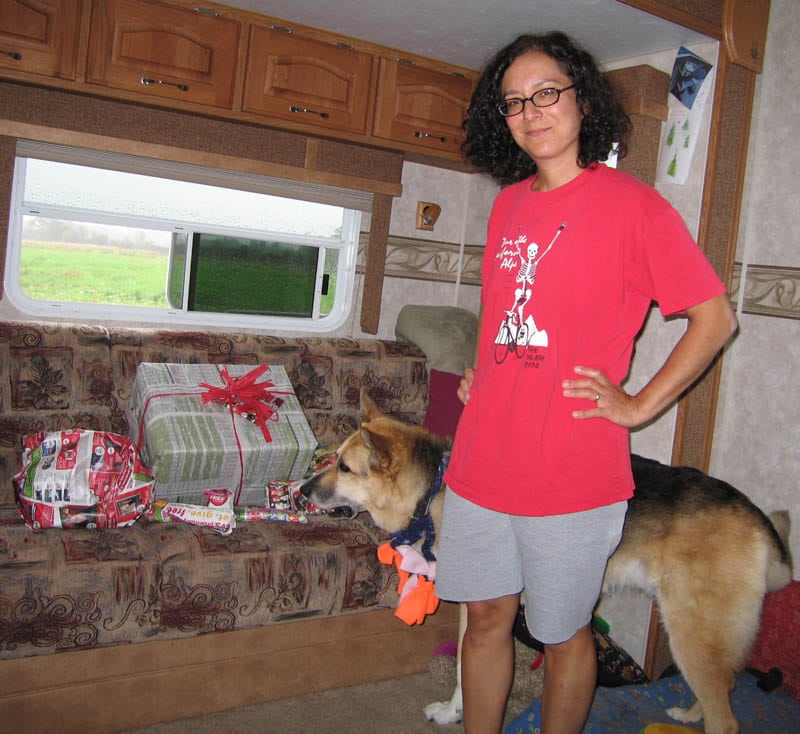 I surprised Rene with some unexpected gifts, but this year it was all about Jerry.
Bittersweet emotions flooded their hearts, but they remained upbeat and showered the unsuspecting dog with treats and presents. Rene even wrapped a few favorite toys he already owned, just to give him more time shredding wrapping paper on Christmas morning.
We always loved watching the Joy Jerry got out of opening presents. To make the morning last, we wrapped up a bunch of his favorite toys. Because for a Jerry Christmas, it wasn't about the gift. It was all about the opening.
Old toys or not, it didn't really matter what was inside a box. Opening it was all that mattered to Jerry. Using his one front paw to hold the gift down, he peeled the wrapping paper with his teeth. When one of his presents started singing before he'd ripped off the rest of it, his eyes lit up and his ears quivered at the familiar voice. It was his special occasion toy, the Singing Barney.
Of course, we had the camera ready. And once Jerry squeezed the wrapping around his signing Barney doll, it was game on! After all, his plush Barney infatuation was only surpassed by his crazed antics when the that singing doll came out…
I love you. You love me. We're a great, big, family…
On that Christmas morning, Barney sang from beneath his Sunday comics wrapping paper. Jerry growled and bit at the soft, lumpy package until the paper was almost gone, then flung his nemesis across the room and right into his water bowl. Score! He retrieved the soggy doll for another round, then shook it hard, splashing water onto walls, windows, and his people. Laughter filled the RV as the trio celebrated a real Christmas miracle.
Read the whole story about that Jerry Christmas on the farm – and so many more fond memories – in Be More Dog: Learning to Live in the Now.