When we informed MUTTS creator Patrick McDonnell and his wife that we said goodbye to Wyatt, Karen asked if I might consider writing an article about our two triumphant Tripawds for the MUTTS blog. I was honored, and a bit taken about what to write. The pain of losing Wyatt Ray was still pretty raw. And that stirred deep emotions about our first Chief Fun Officer Jerry. Therefore, rather than just telling our story again, I found myself writing about the survivor guilt I knew I would have before letting Wyatt go.
Read my full article here:
In this guest essay, Jim Nelson (co-author of "Be More Dog") honors the memories of two very different, yet similarly triumphant, Tripawd teachers.
Why would we tell our friends at MUTTS about Wyatt Rays final days? Well, Patrick met Wyatt when Rene and I attended a book signing for Wag! in 2009. I wanted an autographed copy of my favorite MUTTS book, Guardians of Being, which includes the NOW! NOW! NOW! strip we still have inside our medicine cabinet. And Wyatt Ray was there with us.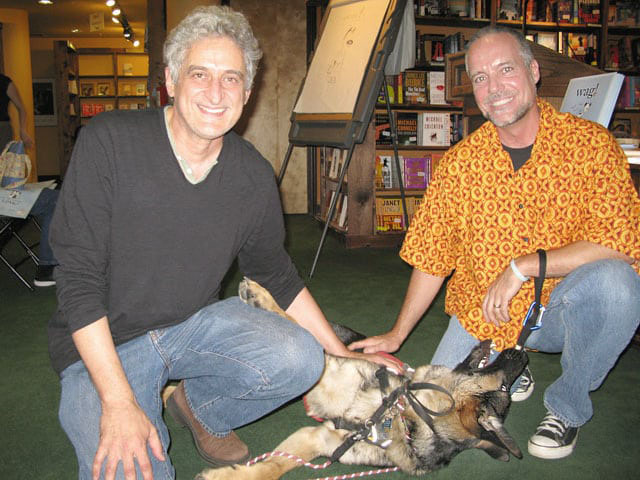 Nine years later, Patrick wrote the Foreword for Be More Dog, and created a custom title panel illustration depicting Jerry with his pals Earl and Mooch paying tribute in true Tripawds fashion.

MUTTS Guest Post about Two Triumphant Tripawds
Writing my guest essay for the MUTTS blog was quite cathartic. Before we set Wyatt free from his broken body, I knew I would experience some serious survivor guilt. I had come to realize that I never really gave Wyatt the credit he truly deserved. I was always a bit disappointed that we never created quite the bond I shared with Jerry.
Throughout Wyatt's senior years, however, I came to believe that he showed his love in different ways. And that he was just as much a spiritual teacher as Jerry – just with different lessons to share. That he and Jerry were both, truly Two Triumphant Tripawds.
Wyatt shared a lot in common with the MUTTS character Guard Dog. He was an inner-city dog left tethered and neglected in a backyard.
—MUTTS Blog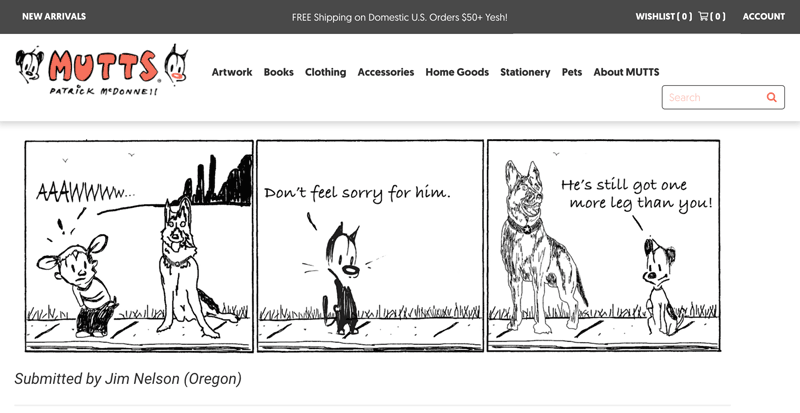 More About Our MUTTS Connection
Three paws up to  Patrick and Karen, for allowing me to open up and share these thoughts and feelings in my MUTTS Blog guest article. They even shared it in the MUTTS Newshletter. Yet while It made me sad, it also brought me joy by remembering how Wyatt played with Patrick when we met – and how Patrick gave us a drawing he sketched during his reading of Guard Dog off leash.
During that signing, Patrick agreed to create the foreword for our Be More Dog book, which would take us another nine years to publish. He also drew Guard Dog off leash, something he had never done within the panels of MUTTS. (Not yet, at least.) After meeting Wyatt, Patrick gave us that drawing. We treasure it even more, now that Wyatt is running free.
What do I mean by Survivor Guilt? What did our Two Triumphant Tripawds really mean to me? And what is the Tripawds / MUTTS connection all about? Read One Heart Dog, One 'Guard Dog' in the MUTTS blog.
To get the full story about Jerry, and the many lessons he taught us, read Be More Dog: Learning to Live in the Now.