"I love that they got in the RV and did it for their dog, Jerry." Those were the words of Oprah Winfrey, after Rene Agredano shared the story which would one day become her first book, Be More Dog: Learning to Live in the Now.
Be More Dog author Rene Speaks with Oprah on the Gayle King Show
When Rene Agredano and Jim Nelson first sat down to write an early draft of their book Be More Dog back in May of 2010, Rene called the Gayle King Show to share her adventure story with Oprah Winfrey. Rene briefly described how they gave up everything to travel the country in an RV with their dog Jerry, after he lost a leg to bone cancer.
Listen to this short clip to hear Oprah admire how the couple, "got in the RV and did it for their dog, Jerry".
During the call, Rene describes how they sold everything and hit the road to travel together after Jerry's bone cancer diagnosis and amputation.
"It was awful and sad, but we had such great experiences with him. And it was a real wake-up call to start living life, and not just make work the focus of our day."  — Rene Agredano (On the Gayle King Show, May 2012)
Gayle and Oprah were both clearly touched by the story. After Oprah asks if Jerry got to live a great dog's life, Rene's answer is, "Absolutely…" She goes on to explain how much Jerry loved the outdoors, and why they decided to sell everything and buy an RV to travel together.
"When we found out he only had a few months to live, we said: that's it. Let's give him what he really loves. And we felt really fortunate and blessed that we were able to do that…"  — Rene
Gayle was obviously thinking the same thing when she finished Rene's sentence:
"…that you could just go on the road with Jerry. I really like that."  — Gayle King
After briefly discussing Jerry's end of life, Rene shared the bittersweet truth about how he earned his wings under the beautiful Montana sky near Yellowstone National Park.
"It was a storybook ending, for a dog that was able to have a great life."  — Rene
Oprah summed up what everybody was feeling, with her final comments.
"I love that they got in the RV and did it for their dog, Jerry."  — Oprah Winfrey
Ending on a sweet note, Gayle added her final opinion.
"Oprah, I could see you doing that…"  — Gayle
Oprah's only response? "Oh, yeah…"
As Rene asked in the 2009 PBS documentary, "Nature: Why We Love Cats and Dogs", just how far does one go for a dog? Well, Jim and Rene went pretty far by selling their business, their home, and nearly everything they owned to dedicate all the remaining time they had with Jerry to traveling the country together as a pack.
Who wouldn't love such a story? From the sounds of things, Oprah and Gayle certainly did. You can listen to more of this short interview here, originally posted in the Tripawds discussion forums back in June, 2010.
Now you can love the story too. In October, 2019 – on the eleven year anniversary of Jerry's passing – Rene and Jim published their book that tells the entire story, from the beginning.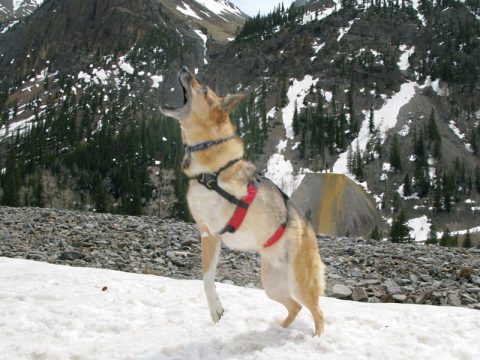 Scenes from the video above include just a few of their adventures with Jerry in the Rocky Mountains. Be More Dog follows them from their home town on the remote Northern California coast, across the United States to the coast of Maine, down to the Florida gulf, and back to the top of the world in the Rockies.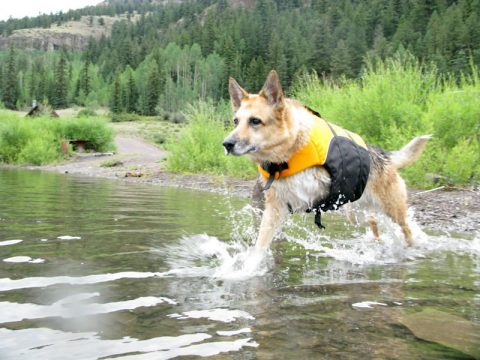 Along the way, they share the many lessons learned from their three-legged co-pilot about the importance of living in the Now.