Returning to Vickers Ranch always brings up bittersweet memories from the summer of 2008 when we first started workamping here. That was our last summer with Jerry, and I'm forever grateful we got to spend it together in such a beautiful, magical place. This year, I had an especially somber moment as we said goodbye to Old Blue.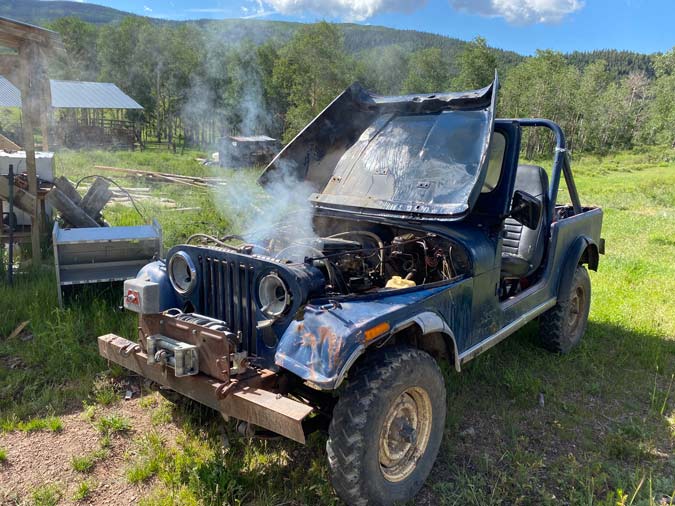 For nine out of the past 14 summers, I've crawled all over the upper ranch in Old Blue. We put in many long hard miles together while logging, haying, and working on various other ranch projects.
Old Blue Scenes from Be More Dog
Rene and I also had some fun excursions in Old Blue – taking Jerry (and Wyatt) to the upper ranch. We've enjoyed many fishing trips, and have spent a few nights under the stars with each of them.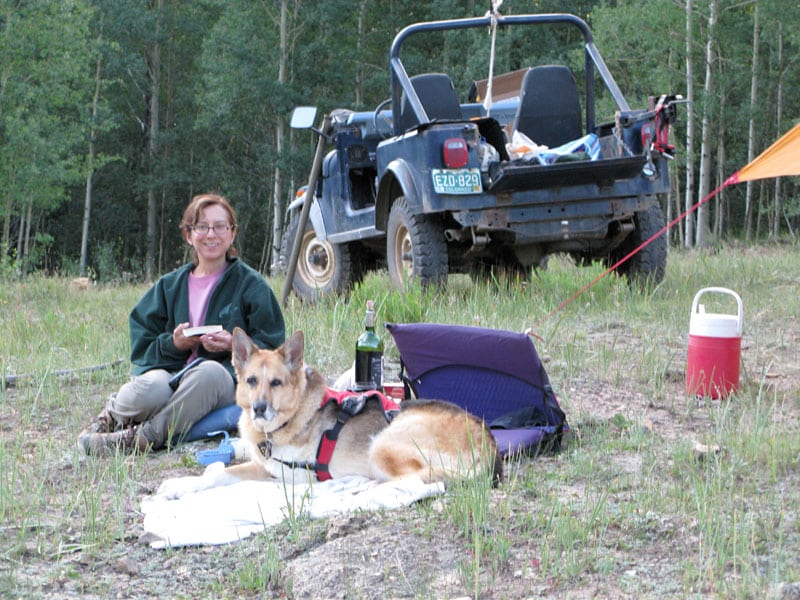 And then, there was our camp-out with Jerry on the night of the Perseids, when we made that silly Three Legged Red wine review video. It's all thanks to that Old Blue Jeep…I recently paid homage with more details and photos in my Tribute to Old Blue on our Live Work Dream blog.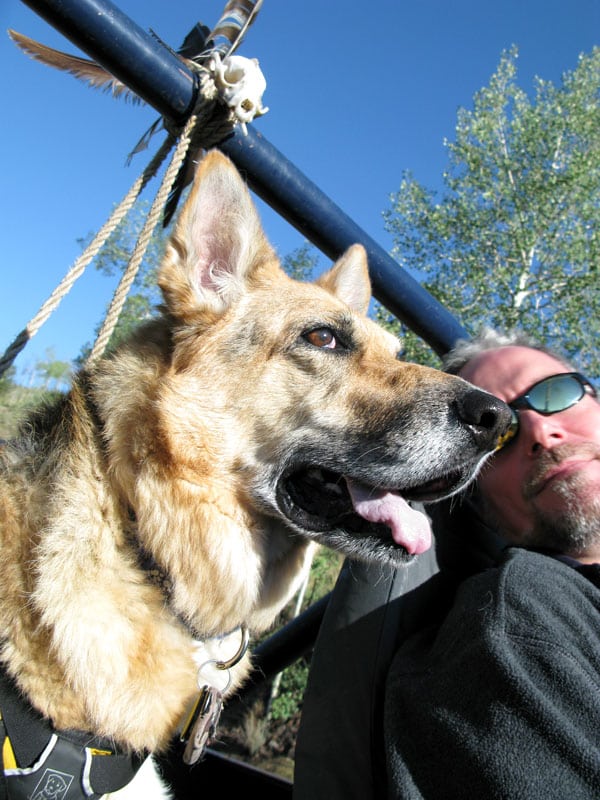 I loved that Jeep. He even makes a few appearances in the "Ranch Life" chapter of our book, Be More Dog: Learning to Live in the Now.
Be More Dog Excerpts Featuring Old Blue
…Jim pulled up to the office. He was driving Old Blue, a beat-up, early 1980s model Jeep with a cracked windshield folded forward, no doors, and no top. The old workhorse could go anywhere, and quickly became his favorite ranch
vehicle.
~Be More Dog – Chapter 21: Ranch Life
One particular memory always hits me in the heart, whenever I think of Old Blue. It's of a certain fishing trip I describe in the book. Without giving too much away, it began much better than it ended.
Jim steered the old Jeep through another tight bend, then crested a hill overlooking the small lake. He was glad to see that none of the ranch guests were fishing Joe Bob that day. "We got the place to ourselves!"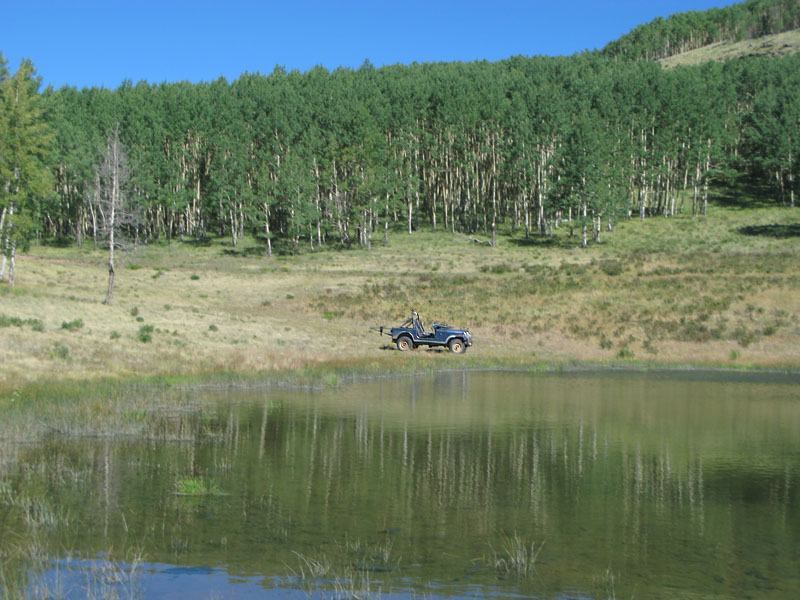 That beautiful day in early September, 2008 was one of our many Vickers Ranch scenes in Be More Dog. Jerry decided to stay where he laid down in a patch of wildflowers. I worked my way around the lake with my fly rod.
"You gonna stay there, eh?" He couldn't bring himself to disturb Jerry, who was sprawled out soaking up the sun. Instead, he walked around the pond to fish the far side. Old Blue sat on the slope at the other side, its reflection rippling in the water…
Spoiler Alert
Yes, I did catch a fish. But I won't tell you why I didn't land it.
…He inhaled deeply and filled his lungs with gratitude. Whatever fears he had been feeling about Jerry's health were far away. He cast his line and peered across the lake, watching the fly float on the surface. Jerry lay peacefully among the flowers. It was just another great day at the ranch.
It was a rather quick and very bumpy ride back down the mountain. Rene and I both feel that day was the beginning of the end for our adventures.
"Oh my God! What happened to you two?"
"Long story." Between the dark lurking sense he'd felt on the night of the Perseids, the swarm of angry bees, and the close call on his wild ride down the mountain, he felt as if the signs added up to an end to their idyllic ranch life.
We had another wonderful month together with our Chief Fun Officer. And honestly, I have more fond memories of other trips we took around the upper ranch with Old Blue. But that day, I'll never forget. It bothered me for a few days to follow. But Jerry didn't seem to mind what happened. He was soon back to his old happy self – just another lesson he taught us on the road to Be More Dog.