Stress Less. That's great advice for anyone. It's one of the wonderful lessons we learned from our Chief Fun Officer Jerry. And it's the focus of the Stress Less Camping RV and Travel Podcast. RVing, Travel, and Camping: Three things that thrilled us during our two years on the road with Jerry. And stressing less, of course. That's why we were thrilled to be guests on the Stress Less Camping Podcast. The episode is titled:
Be More Dog: Life Lessons from the Road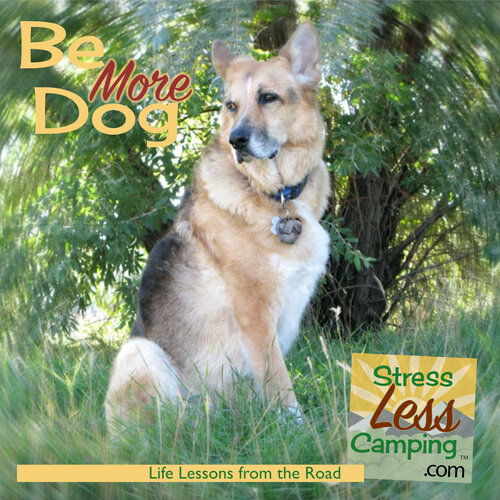 There are no coincidences. Our Be More Dog interview begins at 03:13 of this Stress Less Podcast episode and wraps up at 33:03 – Three is a Magic Number!
From the Stress Less Camping hosts, about this podcast episode:
We speak with Rene Agredano and Jim Nelson about the lessons learned from Jerry, a dog with three legs and their website Tripawds. Then we visit Willits, California and camp at the Mendocino Redwoods RV Resort.
We discuss various topics throughout this episode of the Stress Less Camping Podcast. In addition to the lessons we learned from Jerry, we talk about how we transitioned to the nomadic lifestyle. We talk about why we chose a fifth wheel over a truck camper or Class A rig. Discussion turns to the many amputation recovery and care resources at Tripawds. We talk about the workamping jobs we've enjoyed. Finally, we review the various other revenue streams we work on as location independent entrepreneurs. I coined that term for a 2012 NBC News article, long before being "Digital Nomads" became a thing.

Enjoy this episode of the Stress Less Camping Podcast. Then check out all our Be More Dog media appearances. Or get the whole story in Be More Dog: Learning to Live in the Now.